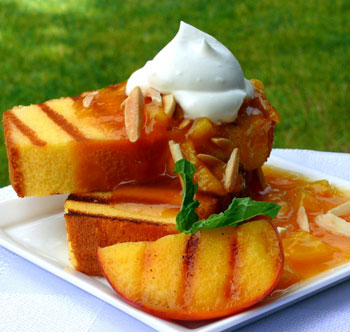 Recipe created by Noble Pig | Serves: 4
INGREDIENTS:
Coulis:
2 heaping cups sliced and peeled "ripe" peaches, more for garnish
10 ounces apricot jam
4 Tablespoons unsalted butter
1/4 cup water
1 Tablespoon lemon juice
2 Tablespoons cornstarch
One store-bought pound cake, sliced crosswise into 8 pieces
Chantilly Cream
1/2 cup heavy whipping cream
2 Tablespoons granulated sugar
1/2 teaspoon vanilla extract
Garnish with:
Slivered almonds
Sprigs of mint
Grilled peach wedges
DIRECTIONS:
In a medium saucepan, combine peaches, peach or apricot jam, lemon juice and water. Crush some of the peaches with a potato masher; about three to four crushes will do the trick, leaving many whole pieces. Bring to a boil then turn the heat down to medium. In a small bowl stir 1 Tablespoon water with cornstarch. Slowly add cornstarch to the simmering peaches and stir for one minute. Remove from heat and keep warm.
In a medium bowl combine heavy cream with sugar and 1/2 teaspoon vanilla extract; beat until stiff peaks form. Refrigerate until ready to use.
Preheat a grill or grill pan to medium-low. Brush the pound cake slices with melted butter. Grill until the cake is toasted, about 2 minutes on each side. You can also grill some sliced peach wedges to serve on the side. Spread the warm sauce on dessert plates, place 2 cake slices on each plate and top with additional sauce, Chantilly Cream, slivered almonds and garnish with a sprig of mint.
- Recipe courtesy of Cathy Pollack from her blog noblepig.com.