1 sheet frozen puff pastry, thawed
flour for your board
1 ounce dried porcini mushrooms
1 tablespoon olive oil
2 tablespoons butter
1 shallot, minced
salt to taste
1/2 pound baby bella mushrooms, sliced
1/2 pound combination of shiitake, woodear, morel, chanterelle, etc (the combination of any one of these mushrooms will result in a fantastic tartlet so you can experiment without breaking the bank – some wild mushrooms can be very expensive)
1 tablespoon fresh thyme leaves
3 tablespoons brandy
1/4 cup chopped parsley
1/3 cup cream
1/2 pound gruyere cheese, grated
Preheat the oven to 425 degrees F.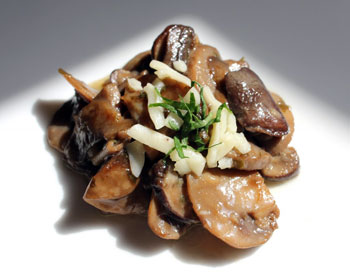 Flour a clean surface and roll the puff pastry out to flatten it about 1/8 inch more. You will only need to roll a couple times over the dough. This process takes a lot of the extra poof out of the puff pastry, making it a lovely, slightly poofy cracker for the tartlets.
Cut the dough into 2 inch squares, place on a baking sheet, and bake for 5-10 minutes, or until they begin to brown and crisp up.
Soak the porcini mushrooms in very hot water for about 30 minutes. Drain over cheesecloth or coffee filter into a bowl to save the soaking liquid.
Heat the oil and butter in a large saute pan. Add the shallots and a dash of salt and saute until the shallots have softened, about 1-2 minutes. Add half the mushrooms and saute for a few minutes until the mushrooms have released their juices. Add the second half of the mushrooms and continue to saute. Stir in the thyme leaves. Simmer for 7- 10 minutes, letting the juices release from the mushrooms and then start to reabsorb.
Stir in the brandy and let simmer for 1-2 minutes. Stir in the parsley, the cream and the grated cheese.
Place on puff pastry tartlets, sprinkle a little more cheese on top, and enjoy.
- Recipe courtesy of Alison Wonderland Tucker