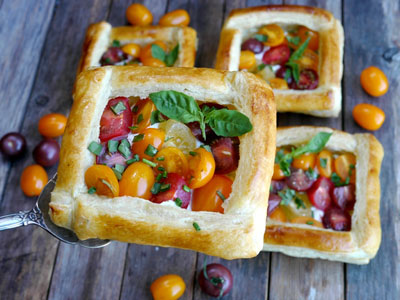 Serves: 4 tarts
Ingredients:
2 sheets frozen puff pastry (17.3 oz. box)
1 egg yolk, beaten with 1 Tablespoon water
3 ounces goat cheese, softened
1 Tablespoon minced fresh basil, more for garnish
1 Tablespoon minced fresh chives, more for garnish
2 garlic cloves, pressed
2 Tablespoons milk
20 small tomatoes any color, grape or cherry
Directions:
Thaw puff pastry overnight in the refrigerator. Preheat oven to 400 degrees F.
Using a ruler, cut one of the puff pastry sheets into 4 even squares and place them on a parchment-lined baking sheet. With the other sheet, cut into 8 strips, each 3/4" wide (you will have leftover puff pastry). Cut the 8 strips in half crosswise to make 16 strips.
Place four strips around the edge of each square, overlapping the corners. Lightly brush the edges and corners with egg wash, bake until puffy, about 22 minutes.
In a small bowl, use a fork to gently mash together goat cheese, basil, chives, garlic and milk. Stir until creamy. When puff pastry is done, remove from oven. The middles will be puffy, push them down gently with a fork and divide cheese mixture among the four tarts, spreading evenly with a spatula. Top with tomatoes and season with salt and pepper.
Bake for another 5 minutes and garnish with basil and chives. Serve immediately.
- Recipe courtesy of Cathy Pollak