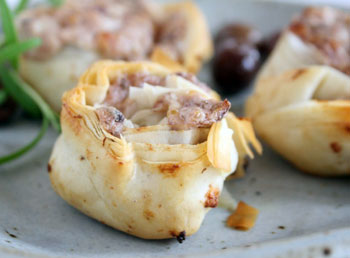 1/2 cup cream cheese, room temperature
1/3 cup grated Provolone cheese
1/2 cup pitted Greek olives, coarsely chopped
1/2 pound fillo dough
Olive Oil
Preheat oven to 400°F. Line baking sheet with parchment paper.
Beat cream cheese with Provolone until light and creamy. Stir in the chopped olives.
Lay one sheet of fillo dough at a time on a clean, dry work surface. Brush with olive oil, lay another sheet of dough over the top and brush with olive oil. Continue this process until all sheets have been stacked. Use a pizza cutter to divide the stack of dough into rectangles. I made 3 evenly-spaced cuts from long side to long side and 5 cuts from one short end to the other.
Spoon filling in the center of each rectangle. Bring the long sides up and coil each rectangle to form a wheel. Place on parchment-lined baking sheet and brush with more olive oil. Bake in preheated 400-degree oven for 15 to 20 minutes. Serve hot. With a salad, these Wheels will serve 5 or 6.
Baked and cooled, the Wheels can be stored in the refrigerator for up to 24 hours. When you are ready to serve them, reheat in a preheated 400-degree oven for about 5 minutes.
- Recipe courtesy of Sue Doeden