If the sun-drenched yellow of summer sweet corn or the regal purple of ripe blackberries makes you flutter with anticipation, then the stunning new book, Ripe: A Fresh, Colorful Approach to Fruits and Vegetables, by Cheryl Sternman Rule, is for you.
Arranged by color, Ripe takes you on a dazzling visual journey of produce, in all its natural glory. The book begins boldly with audacious red and pink (beets, rhubarb, strawberries) and ends serenely with calming white (cauliflower, coconut, turnips). In between it travels through orange and yellow (corn, pineapple, nectarines), green (broccoli, edamame, fava beans) and purple and blue (bluberries, eggplant, plums).
Each fruit and vegetable is beautifully photographed by Paulette Phlipot. Some like the exposed heart-shaped red strawberry, the water-dappled kale leaf and the once-bitten green apple remind us what real food porn looks like. Phlipot does the impossible: she makes celery look sexy.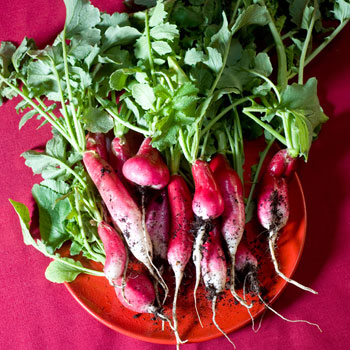 Ripe isn't all eye-candy though; the prose is equally alluring. Sternman-Rule's anecdotes accompanying each fruit or vegetable are delightful. Consider her take on pomegranates: "Each winter, a pomegranate tree in my neighborhood suddenly fruits. I go out of my way to pass it, marveling at its accomplishment. Well done, I whisper."
She's equally adept at creating clearly written, easy to follow recipes (75 in total). From a breezy 2-minute Clementine Creamsicle Milk Shake to a lengthier hour-long Black Lentil Celery Couscous with Jeweled Fruit, you always feel you're in good hands every step of the way.
Each fruit or vegetable is given one full recipe and three "simple uses" suggestions. For example, you can make the Honeydew Salad with Poppy Seed Dressing recipe or try one of the three simple uses for honeydew: 1. mojito = honeydew + lime juice + simple syrup + light rum. 2. sorbet = honeydew + basil + honey. 3. kabobs = honeydew + red and yellow watermelon + cantaloupe.
Ripe isn't just another cookbook; it's a lovingly crafted homage to nature's bounty.
Radish Olive Crostini Recipe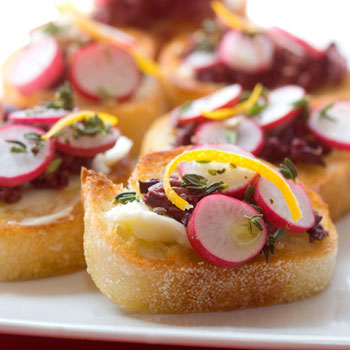 Makes about 18 toasts (if using a half baguette) or 36 toasts (if using a full baguette)
1/2-inch-thick slices of French baguette
Softened butter
1/4 to 1/2 cup pitted Kalamata olives, drained and minced
1 to 2 bunches radishes (French "breakfast" radishes preferred), scrubbed, trimmed, and thinly sliced
1 bunch fresh thyme, leaves only
Zest of 1 lemon
Coarse salt and freshly ground black pepper
Extra-virgin olive oil, for drizzling
Set the broiler rack 4 inches from the heating element. Lay the bread slices on an ungreased baking sheet. Broil until the edges just run golden, 1 to 2 minutes, watching carefully. Flip and broil the other side for 30 seconds to 1 minute longer. Cool to room temperature.
Spread each crostini with butter and top with olives and radishes. Sprinkle with thyme leaves, lemon zest, salt, and pepper. Finish with a thin drizzle of olive oil. Serve at room temperature.
From Ripe: A Fresh, Colorful Approach to Fruits and Vegetables by Cheryl Sternman Rule. Copyright 2012. Published by Running Press. Available wherever books are sold. (Photography © Paulette Phlipot)

Susan Russo is a free lance food writer in San Diego, California. She publishes stories, recipes, and photos on her cooking blog, <Food Blogga and is a regular contributor to NPR's <Kitchen Window. She is also the author of Recipes Every Man Should Know
and The Encyclopedia of Sandwiches
.