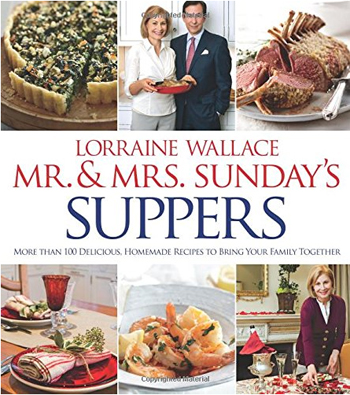 "Chris loves Pork Chops anyway they are prepared."
My friend, Lorraine Wallace, seems utterly dedicated to making her husband happy on Sundays! Chris anchors Fox News Sunday live each week, and Lorraine has taken that as her cue to make the evening meal especially welcoming.
I love comfort food and I love pork chops, so when I got my copy of Mr. and Mrs. Sunday's Suppers
, the first recipes I checked out were for Pork Chops. I wasn't disappointed: Pork Chops with Glazed Sweet Onions (perfect – Vidalia onions are coming into season) and Pizza Pork Chops!!! HUH?? Don't expect pizza dough, but do count on all the delicious flavors that go into pizza sauce enhancing the chops.
(And, surprise! Next to the newly discovered recipe for Pizza Pork Chops, I see another fabulous recipe: "Linguini Con Vongole From the kitchen of Nancy Ellison." That's me!)
Lorraine's cookbooks - besides MR & MRS SUNDAY'S SUPPPERS - include Mr. Sunday's Soups, and Mr. Sunday's Saturday Night Chicken. All of them emphasize fresh ingredients, simple recipes that compliment our busy, contemporary life style, and a sense of wellbeing.
A few that caught my eye: Homemade applesauce, Avocado soup with Lime Cream and Seared Chipotle Shrimp, Wagshal's Beef Stroganoff, Black Bean Burgers with Chipotle Mayo, Chicken Cacciatore for the Weeknight (when was the last time one found Cacciatore anywhere!) Duck Breasts roasted with Chinese spices, Not your Mom's Tuna Casserole, and Bill's favorite - Buttermilk "Not Fried" Chicken.
It is, however, Pork Chops that brought me to this delicious book: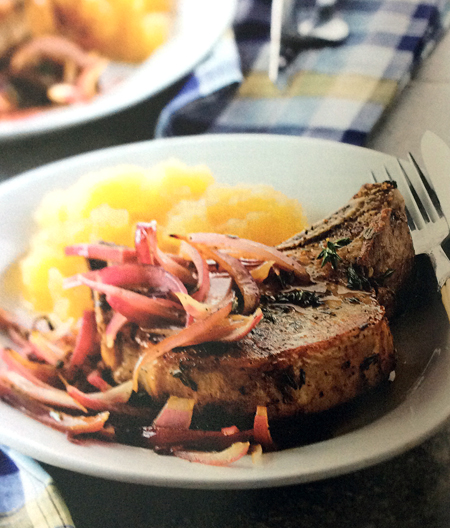 PORK CHOPS WITH GLAZED SWEET ONIONS
(I would have added "Lover's" to the title as it is beyond yummy and only serves two.)
"Chops are an excellent idea for a two-person meal because it's a meat dish that's easy to do for a couple but quite challenging (not to mention costly) to do for a crowd... The sweet-and-sour caramelized onions really make this quick skillet supper. Serve the pork chops with creamy polenta and roasted Brussels sprouts, if you like"
Serves 2
Two 1-pound bone-in pork loin chops (about 1/4 inch thick)
1/4 cup extra-virgin olive oil
2 teaspoons finely chopped fresh thyme or 1 teaspoon dried
Course salt and freshly ground pepper
1 medium red onion, cut into 1/4 rounds, about 2/3 cup (Note: I love Vidalia onions so I would substitute for red)
1/4 cup red wine vinegar
1 1/2 teaspoons sugar
1. Wash the pork chops and pat them dry with paper towels. Transfer the pork chops to a large nonreactive bowl and add 2 tablespoons of the oil and 1 teaspoon of the thyme. Season with salt and pepper. Cover the bowl and marinate at room temperature for 20 minutes.
2. Place the onion slices in a medium bowl and season with a little salt and pepper. Pour in 1 tablespoon of the oil and toss to coat. In a small bowl, whisk together the vinegar, sugar, and the remaining 1-teaspoon thyme, and set aside.
3. In a large, heavy skillet heat the remaining 1-tablespoon oil over medium-high heat. Add the chops and cook until golden, 3-5 minutes per side. Transfer the chops to a platter. Brush the chops on both sides with half of the vinegar mixture, loosely cover them with aluminum foil, and let rest.
4. Add the onions and the remaining vinegar mixture to the skillet and, over medium heat, cook, stirring frequently, until the onions absorb all of the liquid and become golden and glazed, 6-8 minutes.
5. To serve, divide the onion mixture between two plates and lay the pork chops on top.
Serve with homemade Applesauce.
Nancy Ellison, award winning photojournalist and celebrity portraitist, has authored fourteen books of photographs, including "Romeo and Juliet: The Love Story in Dance" and "Starlet". Her latest book is "Wagner's Eternal Ring".