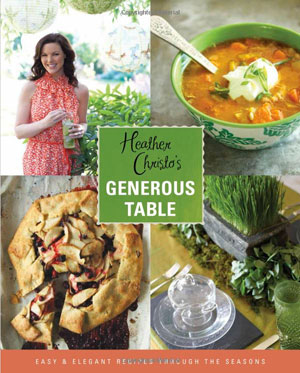 When Heather Christo asked me if I would be interested in checking out her new book, Generous Table
, my answer was an exuberant, YES! Heather and I have been reading each other's blog for years and witnessing the birth of her new "baby" was a wonderful journey to watch her go on.
After drooling over her recipes, it was a toss up as to what I was going to make first. It was between the Chocolate Caramel Mousse, Blackberry Jalapeno Margarita, and this caramel sauce.
Anyone who knows me, knows that caramel "anything" is my drug of choice. On the dessert menu it is the dessert with the word caramel in it that I gravitate toward and a Sees Scotch-Mallow is all I really need to take me to that happy place.
With some homemade ice cream in the freezer and a batch of freshly made dark chocolate almond bark, caramel sauce seemed like the perfect accessory. And the perfect accessory it was, especially with that little bit of a tequila kick!
I am so in love with Heather's book, which is filled with stories, rich recipes, and super easy entertaining ideas.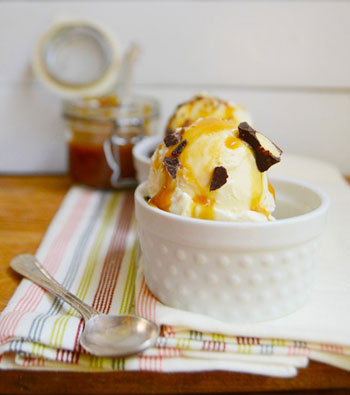 Tequila Caramel Sauce
Ingredients:
1 cup organic, raw sugar
1/4 cup tequila
1/2 cup heavy cream, room temperature
pinch of Celtic sea salt
1 batch of vanilla ice cream
Instructions:
In a small saucepan, melt the sugar over medium heat. I stay close to the sugar as it can burn easily. When it turns an amber color (after about 5 minutes), whisk in the tequila and salt.
Whisk in the cream. The sugar will harden a bit, but with a bit of whisking, it will become a smooth, silky sauce.
Transfer the caramel to a heat proof jar (I like these or these) and let come to room temperature.
Serve immediately over ice cream or your favorite apple crisp and then store in the fridge for up to 3 weeks.
Yield: 1 1/2 quarts
Susan Salzman writes The Urban Baker blog to explore her dedication to good food in the hope of adding beauty to the lives of her family and friends.