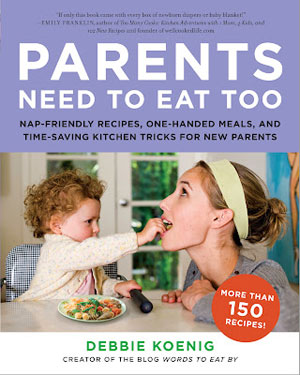 While most moms spend their entire pregnancy worrying about how and what to feed their newborn, they often neglect themselves. While baby is fortified with breast milk and organic mashed veggies, mom has the number of the nearby Domino's memorized. Lucky for new moms and dads, there's Debbie Koenig, proud mom of 5-year-old Harry, and author of the remarkably useful new cookbook, Parents Need to Eat Too
.

The idea for the book grew organically from Koenig's own life. As a sleep-deprived new mom, she found herself resorting to too many fried egg sandwiches and Clif bars instead of nutritious homemade meals. So she started making a few changes: During Harry's morning and afternoon naps, she'd chop and roast vegetables or whip together a cheese or tomato sauce so that when dinnertime came, she'd be way ahead of the game. Miraculously, it worked! So well, that you're now reading this review of her cookbook.

Parents Need to Eat Too has over 150 delicious, nutritious, easy-to-make recipes divided into creative chapters including "Nap-Time Cooking, "Un-Recipes for Partners Who Can't Cook," and "Galacta-what? Recipes to Support Breastfeeding." It also gives new moms tips on how to stock her pantry, which cooking tools and gadgets to buy, and how to shop with a baby.

In the "New Mom's Pantry" chapter you''ll find lots of satisfying, simple, one-pot wonders and pasta dishes such as Smoky Split-Pea Soup (perfect for baby food), Spaghetti Alla Puttanesca, and Southwestern Polenta Lasagna.

"Nap-Time Cooking" will no doubt be the most popular among most new moms. Once the baby's asleep, Koening helps you dice and slice like a pro. You'll find recipes for Zucchini and Spinach Risotto, Indian-Spiced Black Lentil Stew, and more. And on those days when Sweet Pea won't stop crying, and you have to carry him around all day, Koening even has a tasty selection of "One-Handed Meals," including Chicken (Pot) Handpies, Meat Pasties, and BBQ Chicken Empanadas.

You still wonder, Will the recipes really work? Yes. How do I know this? Because the recipes were tested by a group of more than 100 parents! Indeed, you'll appreciate (and sometimes chuckle at) the "Mama said" section at the end of each recipe that includes a note from a parent who made the recipe. Conveniently, every recipe also has instructions to make baby food from the same ingredients.
Susan Russo is a free lance food writer in San Diego, California. She publishes stories, recipes, and photos on her cooking blog, <Food Blogga and is a regular contributor to NPR's <Kitchen Window. She is also the author of Recipes Every Man Should Know
and The Encyclopedia of Sandwiches
.