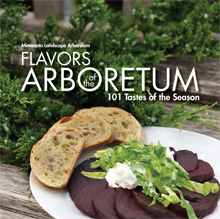 I found a real treasure when I discovered "Flavors of the Arboretum: 101 Tastes of the Season" as I browsed through the gift shop during a recent visit to the University of Minnesota Landscape Arboretum in Chaska.
Recipes in the book include signature classics that you might find on the menu in the Arboretum Restaurant, treasures from the old Tea Room, as well as recipes from cooking classes taught in the "Harvest Kitchen" at the Marion Andrus Learning Center on the Arboretum grounds and guest chefs who are invited to share their knowledge and skills as they teach classes.
Turn to page 29 in "Flavors of the Arboretum: 101 Tastes of the Season," and you will be in the Summer/In Bloom section. That's where you will find suggested summer menus from Twin Cities area chefs with all of the recipes needed to do some "Dining Al Fresco" and enjoy a "Summer Solstice Dinner," as well as several other recipes.
The book lives up to its name with 101 recipes, all divided seasonally. The holidays, a fifth season at the Arboretum, has a section all to itself. Since it wouldn't be summer in Minnesota without zucchini, it's only right that a recipe for zucchini bread would deserve a space of its own right in the middle of Summer/In Bloom.
Most of us have at least a couple of recipes that incorporate grated zucchini into quick bread. But, I must say, I've never come across a zucchini bread recipe that has sour cream stirred into the batter.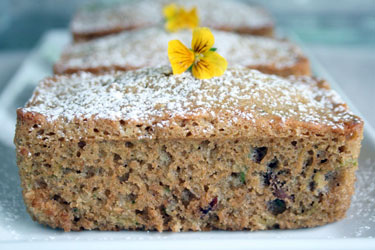 The recipe makes 2 loaves. I chose to bake some of the batter in 6 mini-loaf pans, each holding 1/2 cup of the thick mixture with shredded zucchini and chunks of pecans. They baked for 30 minutes. The remainder of the batter baked in the pan I use for Scandinavian Almond Bread (click here for that recipe) and took 40 minutes to reach baked perfection. It worked great and definitely gave Zucchini Bread a new look.
The bread is moist and delicious with cinnamon prominent as nutmeg chimes in softly. I like to break nuts rather than chop them — breaking gives bigger bites of crunchy nuts in the bread. I used pecans because I have them in my freezer, but choose your favorite to stir into the batter. The sour cream adds nice dairy fat to the bread — and dairy fat always means great flavor.
"Flavors of the Arboretum: 101 Tastes of the Season" can be purchased in the gift shop at the Minnesota Landscape Arboretum or online at their web site, http://www.mnarbonline.com/Gift-Store-C27.aspx. You can also call the Arboretum to order a book, 952-443-1439.
Every third Thursday, April through October, admission to the Minnesota Landscape Arboretum is free after 4:30.
Zucchini Bread
From the Arboretum Cooking Classes
3 cups zucchini, shredded
2 cups sugar
1 cup vegetable oil
1 tablespoon vanilla
3 eggs
1/2 cup sour cream
3 cups flour
1 teaspoon baking soda
1 teaspoon salt
1 teaspoon nutmeg
2 teaspoons cinnamon
1/2 teaspoon baking powder
1 cup chopped nuts
Preheat oven to 325°F.
Combine zucchini, sugar, oil, vanilla and eggs in large bowl. Beat for 1 minute. Add remaining ingredients and mix well.
Pour into two greased and floured 9×5-inch loaf pans.
Bake for 60 to 70 minutes, until toothpick comes out clean. Cool for 15 minutes before removing from pans.
Recipe, used with permission, from "Flavors of the Arboretum: 101 Tastes of the Season." Minnesota Landscape Arboretum. 2011.
Sue Doeden is a popular cooking instructor, food writer and integrative nutrition health coach. She is the host of Good Food, Good Life 365 on Lakeland Public Television. Her own hives full of hardworking bees and her love of honey led to the creation of her recently published cookbook, Homemade with Honey.