From the DallasNews.com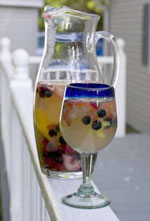 Traditional sangrias are luscious, bold blends of fruits, wine and spirits, often served in pitchers or punch bowls. But this wonderfully refreshing summer drink from Spain and Portugal leaves plenty of room for improvisation.
Beverage consultant Kim Haasarud offers dozens of riffs on sangria in her recent "101 Sangrias and Pitcher Drinks," including a New Zealand Kiwi Sangria, which combines sauvignon blanc, melon liqueur, kiwis and pineapple.
In her book, Haasarud also offers tips for speeding up sangria, which tastes best when allowed to infuse at least several hours. If you're short on time, she suggests lightly mashing some of the fruit, which releases the juices.