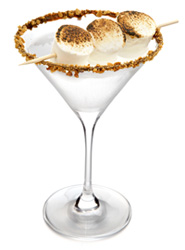 CAMPFIRE MARTINI
3 parts Three Olives S'mores Vodka
Crushed graham crackers
Chocolate syrup
Marshmallows
Dip the rim of martini glass in chocolate syrup and coat with crushed graham crackers.
Pour Three Olives S'mores into martini shaker filled with ice.
Shake and strain into martini glass.
Garnish with a skewer of three toasted marshmallows!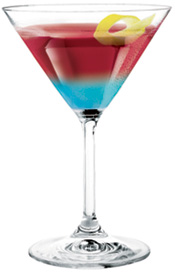 ROMAN CANDLE
3 oz. Three Olives Berry Vodka
1/2 oz. Cranberry Juice
Dash of Grenadine
1⁄2 oz. Blue Curacao
Shake vodka, cranberry juice and grenadine in a shaker with ice.
Strain into a chilled martini glass.
Pour blue curacao gently down the side of the glass so it settles on the bottom.
Garnish with a lemon twist.
- Recipes courtesy of Three Olives Vodka and Maestro Dobel Tequila