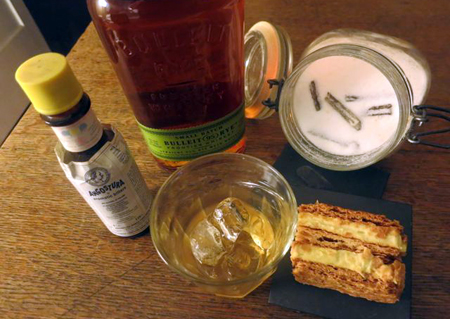 It all started with a Napoleon. And a desire for a cocktail after dinner. The Napoleon, uneaten, and so taken away in a box from a late lunch at Petit Trois was the itch, scratching my brain. It's eggy vanilla aroma permeates the car on the way home and a bottle of newly purchased Bulleit Rye clinks next to me. I get the vision of a vanilla driven rye cocktail sipped along with that Napoleon.
Ludo's Napoleons aren't delicate fine things with a slick of sweet white icing across the top. No, they're robust and sturdy finished off with a perfect shard of bruléed confectioner's sugar. They are so thick that I've never eaten one by cutting down a bite with my fork. Instead I pluck off the top layer of crunchy puff paste and the clinging pastry cream, which leaves another layer of the same to munch later open-face sandwich style. This is the life of the food obsessed.  Upon googling rye and vanilla I found Brandon at Kitchen Konfidence and  a recipe for an Old-Fashioned made with vanilla sugar. I always keep a jar of sugar studded with vanilla beans in the pantry, so his recipe was quick to put together.  Here's my version. I'm making some vanilla syrup to keep in the fridge for the next one.
Vanilla Old Fashioned
3/4 teaspoon Vanilla Sugar or 1 tablespoon Vanilla Simple Syrup
1 tablespoon water
2  dashes Angostura bitters
2 ounces rye whiskey (or bourbon)
Ice
Put the sugar in a serving glass and add the water.  Swirl them together until the sugar dissolves.  Add the bitters, rye and ice and another dash of water.  Stir until cold.  Drink.
If using simple syrup add it to the bitters and rye and stir.  Add ice then stir some more. Drink.
Vanilla Sugar
Instead of throwing away the vanilla beans you use to infuse custards wash and dry them, then stick them in a jar of sugar.
Or if you're feeling flush take a large vanilla bean, cut it lengthwise, scrape out the puree with a paring knife and put all of it into a jar of sugar.  Keep adding sugar and vanilla as needed.  You may also mix together powdered vanilla bean or vanilla paste with the sugar.  With the paste you need to mix it very well into at least four times the amount of sugar by volume so the sugar can absorb the paste and dry it out.
Vanilla Syrup
1 cup water
1 cup sugar
1-2 vanilla beans
Cut the vanilla bean(s) in half lengthwise with a sharp paring knife.  Scrape out the puree. In a small saucepan, mix the bean and the scraped vanilla goodness with the sugar.  Add the water and slowly bring to a simmer.  Cook until the water is clear and the sugar is completely dissolved.  Store in clean jar in the refrigerator.