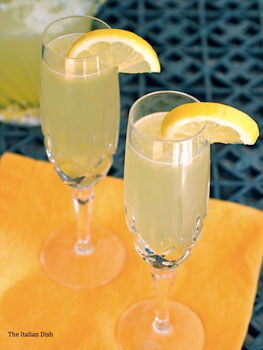 In Italy, digestivos are commonly drunk after the meal and when we were in Sicily, we certainly had our share of Averna after meals. But this digestive is drunk in the Venetian region of Italy and is bright, fresh and clean. A sgroppino is made by whipping together Italian Prosecco, lemon sorbet and vodka. Sgroppino means "to untie" as in, to "untie your stomach" after a meal. So you have a great excuse to make these after dinner! But hey, these are so refreshing we drink them on a hot summer day before dinner.
Some versions of this drink use gelato but most use sorbet, which has no dairy. When you make this drink, don't use a blender – whisk in the sorbet by hand so that it retains some of its texture. You don't want it too thick, but you don't want it real thin, either.
You can certainly buy store bought sorbet, but making your own is so easy. If you still haven't bought an ice cream maker, think seriously about purchasing one now. With all the fruits coming into season soon, there is nothing like fresh ice cream and sorbet. With some fresh fruit you can make sorbet with just water and sugar. That's it. No funny ingredients – better than what you can buy in the grocery store. And this lemon sorbet is outstanding all by itself. Keep the extra in a plastic container in your freezer.
Sgroppino
1-1/2 cups lemon sorbet
3/4 cups Prosecco (Italian sparkling wine)
¼ cup vodka
Fresh mint or lemon slices to garnish
In a small bowl or pitcher, whisk together all ingredients. Pour into chilled flutes. Garnish.

Homemade Lemon Sorbet
2 cups sugar
2 cups water
1.5 cups freshly squeezed lemon juice (about 8 lemons)
1 tablespoon lemon zest
Combine the sugar and water in a medium saucepan, bring to a boil, reduce heat and simmer until the sugar dissolves, about 4 minutes. Cool completely.
Add the lemon juice and zest to the sugar water. If not making sorbet right away, cover and refrigerate until ready to use.
Turn on ice cream maker and pour in ingredients. Allow to mix and freeze until desired consistency.
Elaine McCardel shares her love fresh, homemade Italian cooking and food photography on her blog The Italian Dish.