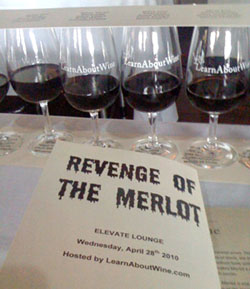 You never forget your first love...and mine was Merlot. Up to that sip of Chilean juice all my encounters with red wine brought mouthfuls of tannic unhappiness. I had no idea red wine could taste so smooth and juicy and, yes, fruity. I remember seeking it out and buying versions from Mill Creek, Lambert Bridge and Chateau Souverain on my first trip to Sonoma. And then, overexposure hit, causing many wineries to plant Merlot where they shouldn't – just to make a quick buck – and the lack of quality made many wine lovers, like me, desert the variety and move on to other grapes. It doesn't take many mediocre versions to turn people off, especially when you're paying good money for the pleasure. This decline happened long before Sideways. The movie just brought the problem to a national audience. Miles' cry "I'm not drinking any f**king Merlot!", while funny, was all too true for many of us everyday drinkers. This once luscious grape was ruined by rampant commercialization, which was sad for drinkers, but had to be horrifying to the wineries who considered this a flagship variety. Lucky for us the ones in it for the long haul, held on and concentrated their efforts into making wines that would turn around Merlot's maligned reputation. Or so I've heard.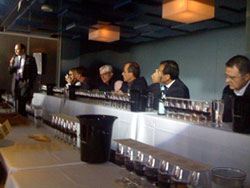 I got the opportunity to see whether they succeeded at Learn About Wines "Revenge of The Merlot" tasting. While clearly devised by the wineries participating to get people talking about and tasting merlot again, it was interesting to actually hear first hand the effects, if any, they had experienced since Sideways supposedly put the nail in Merlot's coffin. Most of them admitted to some decline in acreage and case quantity and quite often having to hard sell people in their tasting rooms; however, the panel consisted of high-end wineries that have been making single-varietal versions since the 70s and 80s so they clearly were not part of the mediocre Merlot problem. Of course they do have to deal with the fallout and with most of the wines in the panel tasting costing $30+, they have all had to make adjustments in how to market this unpopular grape and try to bring wine lovers back to the fold. This tasting is a clear example of their efforts. That said, they were all obviously deeply dedicated to this variety, otherwise they would have given up years ago and turned their vineyards over to the eternally popular Chardonnay or Cabernet and called it a day.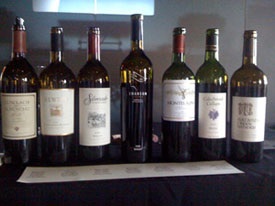 It had been about a year since I had actually drunk a 100% Merlot and I drink wine almost every day. It's not that I was avoiding the grape, it's just that not much of it is produced, and rightly so, in the Central Coast which is where I spend most of my time tasting. (I only buy CA wines that I've tasted. Hate to take a chance at disappointment when spending $25+) Plus, many versions on wine lists are from larger producers where I know I won't be getting any bang for my buck. Of the seven wines in the panel tasting, I would have purchased (if I could have) the Swanson, Montes Alpha and Cakebread Cellars bottlings, which is saying something considering I have only 6 bottles (out of 600+) currently in my cellar. All seven wines were well-balanced and deeply-structured, though more restrained than I anticipated. They were not the Merlots of my youth, but wines that tasted of place and care. None were made in the style that's currently in favor – big, bold and fruity – so I fear they still have a bit of a challenge in regaining traction in the marketplace.
After extensively tasting throughout California, I've noticed most wineries are avoiding jumping on the latest varietal bandwagon (can you say Syrah). They realize it's not the best way to go about their business and are trying to make wines from grapes that truly thrive in their vineyards, regardless of a variety's public popularity. Think Old World ideas, New World style. This decade could be the one that forces the rest of the wine world to finally acknowledge that California, including the regions outside of Napa and Sonoma, is a major, high quality player to be reckoned with. Great wine will sell no matter what the grape is and these wineries are proving that. Even if they have to sometimes make people taste it blind to get them to drink it. I'm glad I got the chance to reconnect with my long lost love, but I can't say I'm ready to whole-heartedly return to the Merlot fold. I will, however, keep an open mind and palate to the grapes "new" potential for greatness.
WINES IN THE PANEL:
2006 Gundlach Bundschu (Sonoma) – $35
2005 Newton Vineyard (Napa) – $60
2006 Silverado Vineyard (Napa) – $30
2005 Swanson Vineyards (Napa) – $36
2007 Montes Alpha (Chile) – $24
2007 Cakebread Cellars (Napa) – $54
2006 Matanzas Creek, Jackson Creek Vineyard (Sonoma) – $50
Lisa Dinsmore is a writer, web programmer, movie and wine lover. She currently runs two websites to share her passions: www.crazy4cinema.com and www.dailywinedispatch.com.