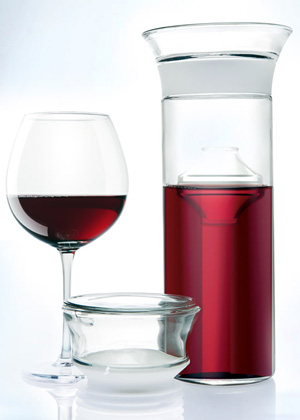 Though I love wine, I don't own much wine paraphernalia. Good glassware and a sturdy corkscrew is pretty much all anybody needs. Carafes are nice for entertaining. Aerators a possible necessity if you're drinking a lot of young red wine, but I generally spend my wine dollars on wine. We have a fairly large cellar and once people find out how many bottles we have - enough to survive a year without buying more, not so much we couldn't drink it in our lifetime - the first question is always "how much do you drink?" Let's just say there are two of us, usually one bottle a day…you can do the math.
Leftover wine is rarely an issue in our house. Yet not everyone has a nightly wine buddy and some people just like to have a glass with dinner. Others like to try several different ones at a time. How do you make sure the wine stays as fresh as possible? Once you pull that cork oxygen begins it's hack job trying to turn your luscious vino into vinegar. I've found the "re-cork it and refrigerate it" method works pretty well with most red wine, since - except for very old ones. Most reds could use a little opening up and many are better the next day doing this. However, if you're not going to get to the wine for a few days you're really taking a gamble. Especially if you really LOVED it the first night. (Our advice when that happens - drink it all. Seriously.) When it comes to white wines or rose, you're pretty much guaranteed to be disappointed the next day if you don't take some precaution against oxidation other than refrigeration.
When I got the chance to try the Savino, I figured why not give it a spin?
We drink our share of white wine, many nights just a half glass as an aperitif, so I figured this would be the perfect opportunity to see if this system worked better than ones I tried in the past (usually some form or argon gas preservative). We used it over a week with a California white Rhone blend, pouring ourselves a half glass every 3 days to see how well it worked as the wine went down (figuring there might be more degradation as there was less wine in the carafe). We did the same the following week with a Provencal rose, a more delicate wine than the first.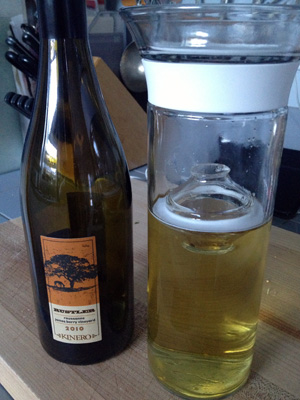 The test was fairly easy. Pour a bit of wine into your glass. Pour the rest into the Savino carafe. Put the floater in - that's what keeps the air out - place the stopper on and refrigerate. (They recommend this for all wines - red or white.) Next step: wait. Day 4: take the wine out, pour - the floater shifts in the carafe so you don't have to remove it - replace the stopper and return to the fridge. Repeat until all the wine is gone.
Did it work as advertised? Yep, it sure did. There was no overtly noticeable difference from Day 1 to Day 7. Since the vessel is not completely oxygen free, the wines did change a bit, but I actually liked them both a bit better. A little air usually helps most wine. There was no hint of off flavors and both held their acidity and bright flavors. It was a very pleasant surprise considering this isn't - on the surface - a very complicated method. Is it better than other preservation methods? I would say in the short term, it's a push, but if you want to enjoy a bottle after the first night or two beyond opening, the Savino definitely has the advantage. Sure it's slightly more expensive than gas ($10-$12 a can) or the vacuum pump systems (around $20), but at $50 it's not that pricey either, considering it's long term use.
Plus it's a lot more classy than an opened bottle with a cork jammed back into the top. The design is modern and appealing, while still sturdy. It's easy to handle, BPA free and is also dishwasher safe. They even have a pack-n-go plastic version that has a locking lid, which is a really great idea. Off to the pool or beach and not allowed to bring glass? Just fill this baby up with your favorite wine (it holds a full 750ml bottle) and stick it in your cooler. No corkscrew needed and the wine stays fresh all day. Just brilliant. A handy addition to most wine-loving households. Even those who rarely have "leftovers."
To learn more about Savino, visit their website.
DISCLAIMER: I did get a sample to test this product. It was not contigent on a positive review. All opinions expressed are my own. Tests were done in a house with no real controls, just like real life.
Lisa Dinsmore is a writer, web programmer and wine lover. She has been wine tasting throughout California for the last decade and holds an Advanced Certificate from the Wine & Spirits Education Trust. She has her own wine website, The Daily Wine Dispatch.