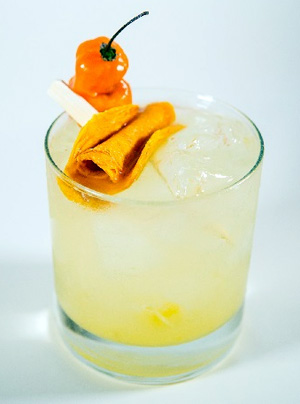 As a margarita fanatic (dare I say connoisseur?), I feel like I have a certain responsibility to find the best margaritas wherever I go—dive bars, hotels, even the Greek Theatre (theirs is surprisingly worth $18, by the way). There's only one rule: they need to be crafted with fresh juice and premium tequila. No artificial sour mix that looks like antifreeze or tequila that comes in a plastic bottle!
I love the simple, like "The Boss" at Valley institution Casa Vega and a traditional Cadillac at Hillstone. They house-make the best sour mix: freshly-squeezed lime, lemon, and orange juice and a splash of simple syrup. The complex cocktails intrigue me, too.
The best I've had is the Market Margarita at Rick Bayless' Red O. It's a fusion of tequila, muddled fresh cucumber and honeydew melon and homemade limonada.
Naturally, I'm always looking for the latest trend to spice up my love affair with the Latin libation. Pepper-infused concoctions have been popping up on specialty cocktail menus everywhere (jalapeno martinis, Tabasco gin and tonics, sriracha everything), and now it's the margarita's turn.
Here are my three favorite recipes I'll be serving for Cinco de Mayo. Turn up the heat with these peppery potions:
Mango Scotch Bonnet Margarita (courtesy of Herradura Tequila)
Ingredients:
2 oz. Herradura Silver
¾ oz. lime juice
3 slices of scotch bonnet pepper
1 ½ oz. of diced mango
½ oz. mango jam
Preparation:
1. Crush mango and chili slices in the base of a shaker with a muddler.
2. Add cubed ice and remaining ingredients; shake hard and strain over ice in an old fashioned glass.
3. Garnish with a scotch bonnet chili and a roll of dried mango.
Kathleen (courtesy of Tequila Chamucos Company)
Ingredients:
Preparation:
Muddle 2-3 slices cucumber with simple syrup and lemon juice
Add ice, hot sauce, tequila, and Cointreau
Shake vigorously
Strain into a martini glass with salted rim
Garnish with lemon twist
Pineapple Chipotle Margarita from our friends at Tacos 'N Tequila
Ingredients:
Dutch Orange Curacao
fresh lime juice
fresh pineapple juice
MONIN pineapple chipotle syrup
dash of Tabasco Chipotle Hot Sauce
served on the rocks
As for the recipe? You'll have to visit Tacos & Tequila in Vegas at the Luxor or its newest location at Casino Morongo in Cabazon, CA. Road trip!