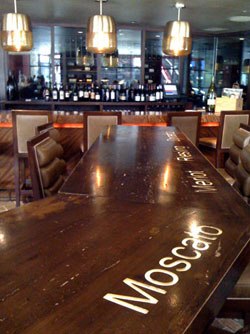 I'm obsessed with wine bars. Or I guess I should say, finding the perfect wine bar. Every trip we take usually revolves around this odd quirk. However, it was not a priority on this excursion to Chicago. We only had one day in the city and I initially had other plans. Plus, the places I wanted to go were too far away from our hotel. Or so I thought. Traffic ruined my morning itinerary, so we ended up grabbing a quick snack and then just walking along Michigan Avenue window shopping, trying to overcome the minor hangover from the night before. With no thought of wine on my mind what do we come upon? ENO, a quaint little bar in the InterContinental Hotel, that specializes in wine flights, cheese and charcuterie. Believe me when I tell you I was going to resist, until they mentioned their Blind Tasting challenge. After a decade of serious education and tasting, I felt sure I could come out a winner...and so we sat down.
The challenge is pretty simple: they give you a flight of three reds or three whites and you have to determine grape variety, new vs old world, country, region and the age of the wine (1-3/4-7/7-10/11+). Two Bonus Points if you actually guessed the wine. The more you get right the cheaper the flight becomes. With a total of 21 answers per flight we felt confident we could get at least 8 right, which would knock $8 off the flight. If we got lucky and answered 21 correctly the flight would be only $5.05. We took the challenge very seriously, but were quickly humbled. I test my husband this way every night, since I choose the wine and he claims he has a poor palate, which he doesn't, just not always the book learning to back up his answers. We both sipped each of the wines and then shared our initial conclusions, talking about what we thought each one was. Then went back and tried them again...and again. We didn't always listen to the other person, letting our egos get in the way. Once you get an idea in your head about what a wine is, it's very hard to change that opinion. Even if you know you're probably wrong. Which is why I failed the WSET taste test more than once. And why we did so poorly here. Especially with the white wines.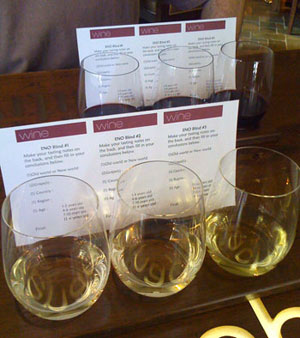 I love white wine so I'm embarrased to admit we only got 3 answers correct. Though technically we should have gotten more because I wanted to change my answer at the last minute on the second wine and The Man wouldn't let me. Told me I was overthinking. Which was true of the third wine, but I knew I was right about the second (we intially thought it was Sauvignon Blanc, but as it warmed I knew it was Pinot Gris). To keep the peace, I let it slide and lost 3 points. He was right about the third and if I had given in and concentrated on what the wine was telling me we could have gotten another 3 points and thus saved $8. We were right about the third wine (which turned out to be a Chardonnay from Burgundy), we just used those correct answers on the first wine (an oaky California Sauvignon Blanc). We thought it odd they'd give us two Chardonnays, but he insisted #3 was Chard and that at least was right. Ugh.
The red flight did not go much better. We did get 6 points and one of them we nailed (a Washington Merlot); however they had a ringer in that grouping. The first wine was supposedly a famous $200+ bottle of Oregon Pinot Noir, but we found it barely drinkable and tasting absolutely nothing like that grape should. I have yet to visit Oregon Wine Country, but if this is any indication of their top of the line Pinot, I want no part of it. Our waitress told us it was a controversial wine: people either LOVE it or HATE it. We believed her. Since almost no one would ever guess this was Pinot, nevermind one from Oregon, we were already out 5 points before the tasting began. I have no excuse for the third red. Had no idea what it was, but it didn't exactly scream Australian Shiraz. At least none I've ever had. It was so dry and restrained I figured it had to be Old World, perhaps Tempranillo. It's been a while since I've had any Aussie wine, so maybe they've changed their tune. Right? Apparently.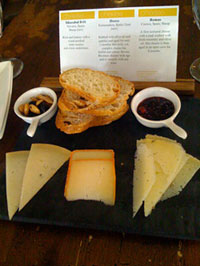 I guess I can't really call sour grapes, as this experience is supposed to broaden your palate to other wine styles made throughout the world and get you out of your personal wine ruts. That it did. I think they stack the challenge a bit in their favor, but hey, if the bottle says Oregon Pinot Noir, then it must be Oregon Pinot Noir. Somebody may have gotten that wine right. (God help them.) In the end, we enjoyed 5 out of the 6 wines and had an interesting time doing it. Kudos to them for pushing their customers to try something new. Not everyone around us was up to the challenge and I don't blame them. For those who just want to drink what they like, Eno has a well-crafted list with unique selections from all over the world for both wine and cheese. The decor was classy, yet comfortable and the food presentation clean and informative. My only main issue, beside losing, is they had only one waitress, who was friendly and knowlegdable but had to handle the entire bar by herself, which was packed. We weren't in a hurry that day, however, the experience would have been better with a bit more attention. All in all, Chicagoans are lucky to have a place like this.
They have two locations in Chicago (at the InterContinental and the Fairmont Millennium Park) and three in California (at the Ritz-Carltons in Half Moon Bay and Laguna Niguel and in the Hotel del Coronado in San Diego).
Lisa Dinsmore is a writer, web programmer, movie and wine lover. She currently runs two review websites to share her passions: www.crazy4cinema.com and www.dailywinedispatch.com. She is also the Managing Editor of One for the Table.