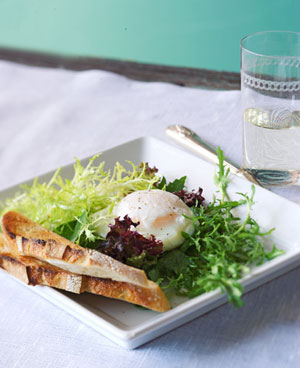 Several times a week my amazing other half will call me at my office, check on me to see how my day is progressing, and then follow it up with "What would you like for dinner?" Before you think I'm the luckiest man on earth to get that phone call every day (because I am!), please keep in mind that the question should really be "Hi there; What Would You Like To Eat Tonight So That I Can Compare It To My List Of What We Have In The Kitchen Against What I Actually Feel Like Making For Dinner Depending On Several Factors Like Time, Mood, Willingness and Temperature." 
We then begin a little phone dance of niceties like "Oh, you know, whatever you want is fine" and "But that really doesn't help me out, Matt, which is why I called" which gives way to "Whatever we bought Sunday at the Farmers Market isn't going to last until tomorrow so make something with that" which gets a "Fine. And where will I get a recipe for what you're talking about" and I'll respond with "Um, improvise?" which meets a "With TAHINI, A BUNCH OF SAGE AND SHRIVELED PLUMS?!?" to which I'll say "Oh god, nevermind, really, I'll eat whatever you want to make. Seriously. I don't care." Then I hang up, upset with myself that his gracious, loving gesture has turned into a heated debate when all he wanted to do was make sure I'm fed, taken care of and let out into the yard two times to take care of business before bed.
Fifteen minutes or so will pass before we both pick up the phone — and depending on whoever reaches the other party first — and say:
"I'm just going to make/Why don't you just make/I'm sorry/No, I'm sorry/let's just have the salad."
Problem solved.
It's known as the salad that we can always both agree on, the salad that satisfies and placates us both, and it's something we never get tired of. It's nothing more than a simple salad of greens, vinaigrette, and a few poached eggs. Perhaps a piece of toast salvaged from the stale loaf we never seem to finish. And it's the peacemaker after a long day. Close enough to Salad Lyonnaise minus the bacon, I can't seem to think of anything better when I've hit food fatigue but must still eat.
Ok, maybe some extra bacon, but the point of all this was to be easy and unpicky.
Why I love this recipe: because it's not really a recipe as much as an assembly of very easy things. A poached egg, frisee or any baby lettuce, vinaigrette, croutons or toast and some chopped bacon. See? Easy and delicious. I'll have extra vinaigrette, please.
-- Also published on MattBites.com