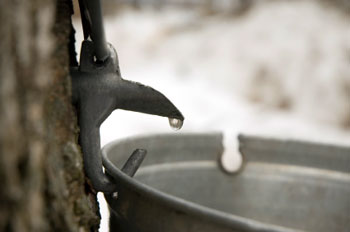 Perhaps it's my New England roots, but many of my favorite recipes, both savory and sweet, include maple syrup as a key ingredient. Of course, I always have it on hand to adorn things like my Crispy French Toast, Banana Pancakes, and Fluffy Buttermilk Waffles or to drizzle over my steel cut oatmeal, but I keep a major reserve to use as a "secret ingredient" in many of my other recipes. And this is the time of year that I begin to replenish my personal supply of 100% pure maple syrup.
There is no sweeter harbinger of spring than the sugary sap that flows from maple trees around the middle of March in Northern New England. In late winter and early spring, the roots of the maple trees are loaded with a clear, sweet liquid and it is the ideal combination of freezing nights and warm days that induces sap flow. The change in temperature from above to below freezing causes water uptake from the soil, and temperatures above freezing cause a stem pressure to develop, which allows the sap to flow out of tap holes made in the tree trunks. We had several maple trees at our house, and my brother and I, after a few hours of playing in the snow, would rejuvenate ourselves by sneaking handfuls of the sugary water-like sap from the gray lidded tin buckets that my Dad put out each year to collect the sap.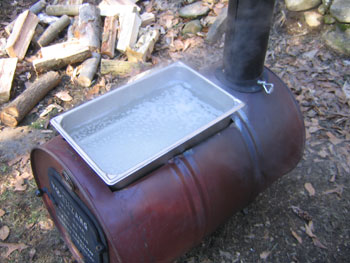 It was not uncommon to take a "Sunday drive" with my parents and head off to one of the many local "sugar houses" to watch the actual maple syrup production. You could spot them in the distance with the plumes of steam and smoke and, as you got closer, you could actually begin to smell the maple aroma in the air. In order to make syrup, the maple sap, must be boiled, until most of the water is reduced. This increases the sugar content and causes chemical changes that both darken the syrup and give it its characteristic taste. It takes 40 gallons of sap to make 1 gallon of maple syrup, so they have to tap a lot of trees to make sure we all have syrup for our pancakes and waffles.
Maple syrup production has always been a part of American history and most historians accept the idea that the Indians taught it to the early settlers and it is still a major part of our gastronomic culture today. In 2009, according to the New England Agricultural Statistics, US maple syrup production totaled 2.33 million gallons. Canada (primarily Quebec) makes more than 80 percent of the world's maple syrup, producing about 9 million gallons of syrup, which translates into $353.8 million in sales.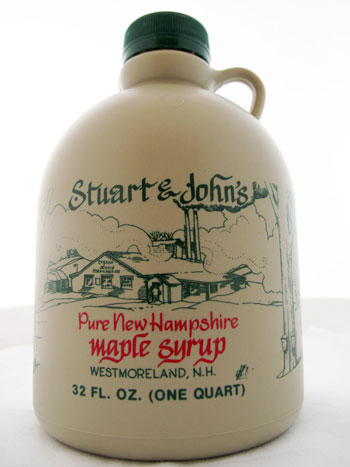 In 1975, my cousin John and his good friend Stuart collaborated when they were just teenagers to build Stuart & John's Maple Syrup in 1975 and it's still going strong today. Although the tin buckets have been replaced with plastic pipelines, and the techniques for boiling the sap have been updated to include methods like "reverse osmosis" (which allows approximately half of the water to be removed from the sap, reducing energy consumption and exposure of the syrup to high temperatures), there is still nothing that beats the natural flavor of syrup made from local manufacturers.
I had a phone call from my Aunt this week who said that they sampled an "exceptional" first taste of this year's flow, which, like many of the first batches, earned a Grade A "Fancy". Maple syrup is divided into two major grades: Grade A and Grade B. Grade A is further broken down into three subgrades: Light Amber (also known as Fancy), Medium Amber, and Dark Amber. Grade B is darker than Grade A Dark Amber and is often used for cooking. I prefer the flavor of Grade A Medium Amber, and save that for pancakes, French toast, and waffles. The Grade B is ideal for cooking and baking, and is a key ingredient in my Glazed Wild Salmon, Sweet Potato Muffins, Pecan Pie and Applesauce Cake.
MAPLE GLAZED WILD SALMON
1 cup pure maple syrup (Dark Amber or Grade B)
2 tablespoons finely grated peeled fresh gingerroot
4 tablespoons fresh lemon juice
3 tablespoons soy sauce
1 1/2 teaspoons minced garlic
2 teaspoons Dijon mustard (optional)
2 1/2-pound center-cut Wild salmon fillet with skin
greens from 1 bunch scallions 
In a small heavy saucepan simmer maple syrup, gingerroot, 3 tablespoons lemon juice, soy sauce, garlic, and salt and pepper to taste until reduced to about 1 cup, about 30 minutes, and let cool. (Maple glaze may be made 2 days ahead and chilled, covered. Bring maple glaze to room temperature before proceeding.)
Preheat oven to 350° F. Lightly oil a shallow baking pan large enough to hold salmon.
Arrange scallion greens in one layer in baking pan to form a bed for fish.
In another small saucepan heat half of glaze over low heat until heated through to use as a sauce. Stir in remaining tablespoon lemon juice and optional mustard. Remove pan from heat and keep sauce warm, covered.
Put salmon, skin side down, on scallion greens and brush with remaining glaze. Season salmon with salt and pepper and roast in middle of oven until just cooked through, about 20-25 minutes.
Cut salmon crosswise into 6 pieces. On each of 6 plates arrange salmon and scallion greens on a bed of mashed potatoes. Drizzle salmon with warm maple sauce.
Serves 6.
James Moore is a producer, publicist and freelance writer. When not traveling the world, he's home in Los Angeles, testing and photographing food to post on his blog Cook Like James.