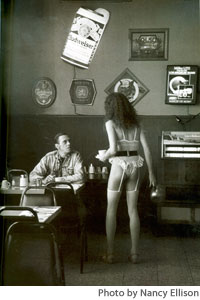 "Named for the mythical winged horse that carried thunderbolts for the Greek God Zeus, Pegasus Café has a classic pristine feeling."
Well, not the Pegasus Café I knew and loved. It's probably closed now… too bad.  You had to be there to understand it's unique charm.

My first visit to the uber fabulous Pegasus was for lunch one day with my Canon Eos rep, but I soon found breakfast was the meal of choice! As one of the photographers selected to do "A Day in the Life of California", I gleefully chose Pegasus as my first stop in the 24-hour cycle of reportage. 
To get to the docks in Long Beach from Malibu meant I awoke around 3 a.m. to leave by 4 a.m. somewhat alert in order to arrive in time for the café's morning rush hour when the truckers started their day and the off shore oil rig guys got off their night shift.
I guess it was around 5 a.m.  The smell of cigarettes and beer was the first aroma that greeted me as I entered the plate glass windowed 1950's style roadside café in the heart of the docks.  The neon lights and lit beer signs offered an odd, alien contrast against the warm glow of the rising sun which rose behind the oil pumps on the road coming in. 

Waitresses, some of whom were in their forties and fifties, were all wearing the Pegasus uniform: short baby doll see-through negligees, merry widow corsets, or little things with garter belts, and support hose. (Oh, those varicose veins!)

I didn't see Espresso, Brioche French Toast or Eggs Florentine on their menu, but I did have the best fried egg sandwich on fresh white bread with mayo I ever had! Better than the old Cora's and just as greasy!
I passed on the beer.