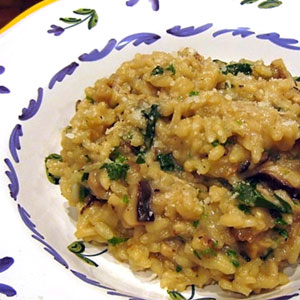 Back in 1990, rice and love became forever entwined in my mind. A man I'd gone out with for ten years broke off our relationship...and my response to grief was to learn how to make risotto. After I taught myself to make proper risotto, I went on a blind date with an Italian, and some time later found myself in Florence, seeking the approval of my future mother-in-law, whose favorite dish was risotto. Rice and love. From a distance of twenty years, the emotion and the starch wind around each other with all the choreographed beauty of ballet.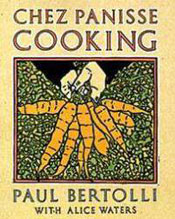 The year of my great misery I was living in a tiny apartment in the graduate ghetto of New Haven, Connecticut. Most of the space was in the kitchen, which I found inspirational. I spent my free time cooking, crying and reading. My favorite cookbook was Paul Bertolli's Chez Panisse Cooking
, a tome with long fervent essays that included a long piece on risotto. I would stand over the pot, stirring as Paul instructed, reading a romance borrowed from the public library, and crying every now and then when it seemed the heroines had a better life than I did. After a month or two of this, I was quite good at risotto and I started to think about men in a more cheerful manner, which led to a blind date with Alessandro, a graduate student in Italian with loopy black curls and a swimmer's body. He liked my risotto. It wasn't until years later, when I ate his mother's creamy, delicious risotto, that I understood how important it was.
In those early days I had ignored Paul Bertolli's directives to do with homemade broth. But a few years into marriage, I realized that my mother-in-law really understood rice, and I embarked on my second long apprenticeship, this time to Italian broth, rather than to Chez Panisse.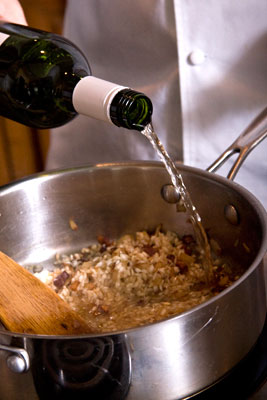 Risotto recipes are everywhere, though I do recommend reading Bertolli's book, if you can. The basic recipe has onion, a little garlic, Arborio rice, white wine and homemade broth. But this is a recipe that's like love: you have to savor every step. When you can smell that the onions are soft but not brown, add the garlic. When you smell garlic's lovely burst of perfume, throw in the rice and stir until it takes on a glossy, plumpy sheen. The smell of wine should burst up from the pan when you pour it in, and finally – Paul is right about this – the broth goes in slowly, ladle by ladle. Stir. These days, I listen to pod-casts rather than read romances, but it's all the same: a slow brewing pot, a stir, another stir.
That risotto, Chez Panisse risotto, came to me when I was heart-broken, and led straight to a risotto-adoring Italian whom I fell in love with and married. And that led to his mother, with her wooden spoon and passion for broth, to my daughter, whose favorite food is risotto with roasted squash...
On Valentine's Day, I shall make risotto. With love.
See how Eloisa and Alessandro first met:


Eloisa James is a New York Times bestselling author of historical romance, published by Harper Collins, as well as a Shakespeare professor at Fordham University. You can follow her sabbatical adventures in Paris in 2009-2010 on her Facebook Fan Page (http://www.facebook.com/EloisaJamesFans)