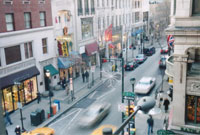 I'm in Center City Philadelphia, back in my hometown for a medical meeting, waiting to cross Market Street, and I hear this exchange between two people who have approached from behind:

"Hey, jeet?" "No, jew?"

Since I keep the Anti-defamation League on my cell phone speed dial for times like this, I'm about to call, when I realize where I am and what the natives are saying:

"Hey, did you eat?" "No, did you?"

Indeed, those two are not casting any aspersions on my ethnic identity, but merely seeking to hook-up for lunch using the area's "ancient" short-circuiting vernacular.

"I'm "headin" over to the Reading Terminal. You "wanna" go?

"Sure, I was just "gonna" pick up "somethin" for the office, but the Reading Terminal sounds good."

The light changes, the two diners wander off, and now I'm hungry, and the imagined affront to my heritage has put me in the mood for a little Jewish comfort food. I know I could walk over to "Mama's Vegeterian" on 20th Street or drive out to the "Country Club Restaurant" in the Northeast, but what I really want, I can no longer have.

What I want is the food my father brought home every Friday evening from the restaurant where he worked throughout my early life and most of his, until he died with his apron on.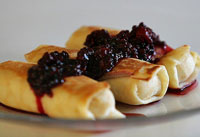 My father smelled of starched white shirts, cigars, smoked whitefish, potato knishes, and cheese blintzes. He worked as the counterman at the Ambassador Dairy Restaurant, an institution in North Philadelphia from the 1940's into the early 1960's. It stood on the southwest corner of 7th Street and Girard Avenue, and was open all night, in part to accommodate clientele who fell in at 3 AM after the clubs closed to "grab a bite" and await the expected arrival of bagels fresh from the bakery.

My father worked the lunch and dinner shift. When we lived around the corner on 8th Street, he would walk home and I would have a few minutes with him before I went to bed. When we moved to Northeast Philadelphia, since he didn't drive, he would take the 59B trackless trolley on Castor Avenue to the El and the Girard Avenue trolley to the restaurant. I would be asleep well before he arrived home and off to school in the morning before he awakened to return to work. He worked six days a week with Saturdays off.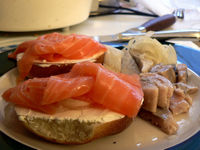 Many mornings a box of fresh cinnamon-raisin sticky buns would greet me at the kitchen table. My father would stop at the bakery beneath the El station on his way home.
It was the dairy delicacies, however, that arrived home Friday afternoons that I most remember: Fresh sliced lox and sturgeon, baked salmon, smoked cod and chubs, rice and potato knishes, cheese and fruit filled blintzes, fresh bagels and onion rolls, and, a personal favorite, potato varenikyas, that my mother would fry with onions or steam and serve with apple sauce and sour cream.

At holiday time, the restaurant's gefilte fish, a particular delicacy, for which people would "run for miles" according to my father, was, however, not welcome at our house. "They can keep it," my mother would reply defending her culinary turf with hand chopper held high.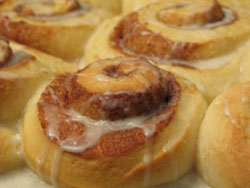 In the fifties, the neighborhood around the restaurant began to change. Working class Jews, like my family moved out to settle new neighborhoods in the Northeast. The Ambassador withstood the change for many years with more limited hours and a short-lived branch in the "new territories," but, eventually, both sites had to close.

So, as I contemplate my dining choices, standing in the shadow of City Hall, bereft of my "soul food" sources, I guess I could opt for that other Philadelphia comfort food: the cheese steak. Pat's of South Philadelphia fame has a branch at the Reading Terminal and the Amish bakery there has the most delicious cinnamon-raisin sticky buns in the city.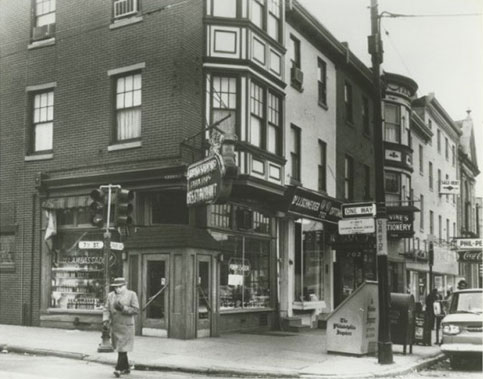 the old neighborhood - philly