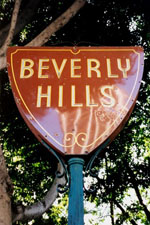 The other day I was thumbing through a copy of OK magazine….alright, I was reading it. They have a section that shows celebrities doing normal things! Captions that read, "They pick up their own dry cleaning!" "They put money in the parking meter!" "They go to the carwash!!!"

Growing up in Los Angeles, specifically Beverly Hills, I would see countless celebrities in their normal, every day life. Cary Grant shopping at Carroll & Company. Fred Astaire strolling up Rodeo Drive. Or Sonny & Cher about to walk into Nate 'N' Al's.
I went to school with the children of many famous people. In some cases, there was a particular tragedy about them. The legacy of their parent's fame was a tyranny to their self-esteem. The comparisons that were made, especially if, God forbid, the kid wanted to go into the same business imposed an obligation that more often than not was unattainable. Some came to terms with it and went on to live happy and healthy lives. Others perished under it.
What made me think about this was the impression I got from my latest interview with Carmine. His situation was entirely unique. His interaction with celebrities was completely mundane and familial. The intimacy of food formed relationships between client and restaurateur unlike any other.
Picture an eight-year old Carmine. It's the weekend. Gravy (tomato sauce) is simmering on the stove. Carmine's disappointed because, again, instead of spending time with him, his dad is playing poker with the guys.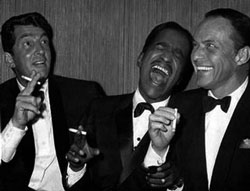 Trundling through the kitchen on their way to the living room, Frank Sinatra, Dean Martin and the other regulars at the Sunday poker game would dip bread in the sauce on the stove. Reminds me of a scene right out of Goodfellas. Hands together in a gesture of prayer, eyes heavenward, they would praise Carmine Sr.'s wife and thank her for giving them a little taste of home. You can still get that sauce today. Well…not THAT one.
Poker, watching football or playing another card game called Schuppa were the male rituals that were closed off to little kids. Carmine got tired of getting kicked out of the room so he decided to shine shoes so he could stick around. From there, he moved up to mixing drinks. Most of the fellas tipped him big. Sinatra usually gave him 25À . Carmine got the sense Frank didn't like kids.
The first inkling Carmine got of the rarefied world he lived in was when the whole family went to Vegas to see "Mr. Martin" perform at the Sands. Dean got them a table up front and when the lights came up Dean went over to the table and introduced Carmine Sr. "This is my good friend Carmine Competelli. He's got a restaurant in Los Angeles that's second to none. Do yourself a favor and go there sometime." Then, he sang, "That's Amore" to the entire family. Business, which was already at capacity, doubled.
When Carmine was old enough, he started working at the restaurant. He parked cars, bused tables, and worked in the kitchen. Another one of his chores was to come in on Saturday mornings to answer the phone. One morning Carmine opened the door to the scene of an all night poker party. This was not uncommon. As the light streamed in, through a dense wall of cigarette smoke, he saw people sleeping in the booths. "In the middle of a table I saw a stack of money and a handgun. The exit sign that led to the kitchen had six bullet holes in it". "What's the gun about?" I asked. Sammy Davis Jr. looked at Peter Lawford. Peter Lawford looked at Dean Martin. Dean Martin looked at Frank. Frank shrugged. "Target practice."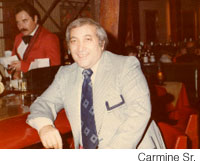 Don't get me wrong. His dad encouraged him to try other things. He certainly wanted those choices for his son. But as fate would have it, they discovered Carmine Sr. had cancer. There was nothing to do except have Carmine take over the restaurant with his mom. He was 16.
Everyone did what they could to stand in for his dad who was in the Bahamas chasing down an "alternative cure". He had some pretty interesting 'stand-ins'. It was Dean Martin who drove Carmine to pick up his girlfriend on Prom Night.
But Carmine had many 'godfathers' watching over him at the time. Eddie De Bellagente, the Maitre D' was a veteran of World War II. Eddie survived a particularly harrowing experience in Italy where German soldiers killed 3 of his buddies. Eddie hid in a chicken coop which literally saved his life. After that Eddie wouldn't eat a chicken. In his honor, there's a chicken dish named after him. Eddie and Carmine worked side by side and it was probably the closest thing Carmine had to any kind of father.
Carmine Sr. died when Carmine was 19.
In his grief spiral Carmine was running with what the tabloids were calling The "Young Hollywood Rat Pack". Michael J. Fox, Denny Tarrio, Scott Baio, John Stamos, even Rick James. I don't need to spell it out, do I?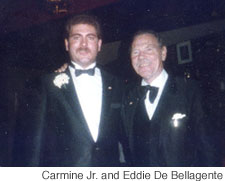 Unlike the typical Hollywood kid who bore the burden of a legacy, Carmine simply wished he'd been able to spend time with his dad. Constant comments from patrons telling Carmine what a great man his dad was only brought that loss into sharper focus.
One day Eddie De Bellagente took Carmine to the Children's Hospital downtown. He took him to the cancer ward. A man of few words, Eddie got his point across. Carmine got his GED and continued to manage the restaurant…even though, it really wasn't what he wanted to do with his life.
The last installment: The journey that leads Carmine to open Carmine's II and how Sammy Davis Jr. paid the cable bill for the bar TV long after his death.
Laraine Newman is a founding member of The Groundlings Theatre Company and an original cast member of Saturday Night Live. She lives in her hometown of Los Angeles with her husband and two daughters.