"…I remember, as the chief result, a very pleasant little supper after the theatre, at Miss Tempest's house near Regent's Park, for the purpose of talking the matter over."
-Edith Wharton, A Backward Glance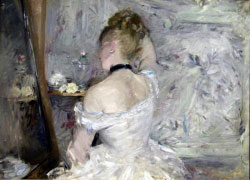 I had always rather imagined myself living the sort of life in which after theatre dinners would figure quite prominently. There would also be suppers after the opera, the symphony and the series of Beethoven string quartets. I would nibble on some grapes, and maybe have some tea and biscuits to tide me over as I got dressed and did my hair and makeup, and after the performance I would come in from the cold (it's always cold in this particular fantasy), my head still full of this character or that movement, to the smell of something delicious to eat. While I readily acknowledge that this dream of mine is largely the result of reading far too many 19th and early 20th century novels involving the British aristocracy and their American descendants (Henry James! Edith Wharton!!). I have stubbornly clung to the hope that at least once before I died, someone would have dinner ready for me when I got home from a performance. I can now say that it happened, and that it was less elegant, but just as wonderful as I had hoped.
I have, all my life, been able to attend performances, and for many years I was a professional musician and often a participant in said performances. Growing up in a college town, I was taken to see concerts and play, but dinner was always before the performance. During college I saw every play and concert that I could, but I lived in a dorm; all that was available to me "after" was ramen made with an immersion heater or a sandwich stolen from the dining hall in my backpack. As a young woman living in Boston I could rarely afford to see anything of a musical or theatrical nature unless I was the guest of a better employed friend (or was willing to settle for free performance art at the Community Center), but even if there was dinner afterwards it was at a restaurant. I lived alone, and there was no one waiting there to whip up Oysters Rockefeller and proffer a glass of very dry champagne. (As is true of many of my fantasies, this one involves living on a scale that includes the acquisition of household staff).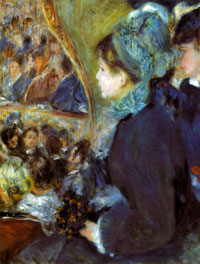 Last Saturday night, I went to my ancestral middle school to see my niece in her theatrical debut as Pirate Virginia in the performance of something called "Captain Bree and the Lady Pirates." I had three tickets, but Mr. Annie begged off; my companions were Sam and a friend of the family. It was cold, I was dressed to the nines, and the performance was quite splendid. I did consume approximately six Wheat Thins and a can of Diet Coke as I performed my pre-theatre toilette, and I recall wondering vaguely whether we would be hungry after we returned home. It seemed likely that we would be, and I planned on heating a can of soup, and maybe having the energy to make grilled cheese sandwiches before I changed and crawled into bed.
When we arrived home, the house smelled like cooking - onions and toast to be sure, and maybe a little butter? In the kitchen was Mr. Annie, not paid staff, but a fine cook in his own right, surrounded by his usual mess of butter wrappers, dirty pans and onion skins. He told me to relax, and I did; kicking off my 3-inch heels, and settling onto the couch. In short order there was a plate in my hand, covered with fried potatoes (cooked in butter and oil with onions), a cheese omelette and buttered toast. He even cleaned the kitchen when he was done.
It was beyond bliss, the sense of being cared for, of having gone into the world and communed with the arts, only to return safely home to something hot and delicious. Oysters and champagne could not possibly have made me happier. (Although I hope that will not deter anyone from offering them to me in the future). It is reassuring to me how much reality can exceed even the most deeply cherished fantasies, and if it never happens again, it happened once, and it was perfect.
Ann Graham Nichols cooks and writes the Forest Street Kitchen blog in East Lansing, Michigan where she lives in a 1912 house with her husband, her son and an improbable number of animals.