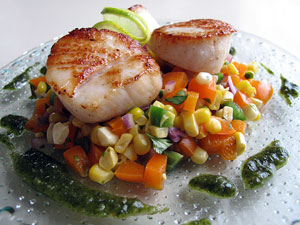 1 pound sea scallops, about 12 large
2 teaspoons olive oil
coarse sea salt
freshly ground black pepper

Remove the small side muscle from each scallop. Rinse with cold water and pat dry.

Warm oil in a large heavy-bottomed skillet on high heat. Salt and pepper the scallops. Add scallops to very hot pan at least an inch apart from one another. Sear the scallops for 2 minutes per side. The scallops should have a golden crust on each side. Serve immediately. Yield: 4 servings.

Corn Salsa

2 ears sweet corn, sliced from the cob
1 small red onion, finely chopped
1 orange bell pepper, chopped
1 jalapeño pepper, seeded and finely chopped
1 tablespoon chopped cilantro
2 tablespoons lime juice (about 1 lime)
coarse sea salt
freshly ground black pepper

In a pot of simmering water, blanch the corn for 2 minutes. Drain immediately. Alternatively, in a heat-proof bowl, cook the corn for 2 minutes in the microwave on high.

In a bowl, combine corn, onion, peppers, cilantro, and lime juice. Season with salt and pepper. Serve warm or cold. Yield: 4 servings.

Cilantro Pesto

1 bunch cilantro, stems removed
1/2 cup pine nuts
1/2 cup olive oil
coarse sea salt

Add cilantro and pine nuts to a food processor and pulse until thoroughly combined. Drizzle in oil and process until smooth. Season with salt. Leftover pesto can be stored in a tightly sealed container in the refrigerator for up to 1 month or frozen in a resealable plastic bag. Yield: 1 cup.
- Recipe courtesy of Gastronomer's Guide.