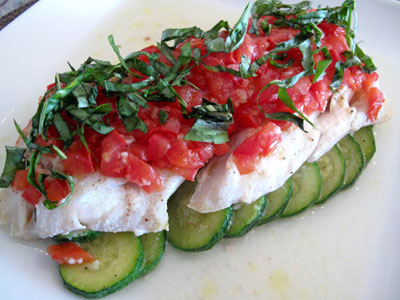 Foil Wrapped Haddock with Fresh Roma Tomatoes and Zucchini
2 medium zucchini, ends trimmed and sliced crosswise into 1/4-inch-thick rounds
1/3 pound Roma tomatoes (2 medium), cored, seeded, and chopped into 1/2-inch pieces (about 1 cup)
2 tablespoons extra virgin olive oil
2 medium garlic cloves, minced or pressed through a garlic press (about 2 teaspoons)
1 teaspoon minced fresh oregano leaves
1/8 teaspoon red pepper flakes
Sea salt and ground black pepper
4 skinless cod fillets, 1 to 1 1/4 inches thick (about 6 ounces each)
1/4 cup minced fresh basil leaves
1 lemon, cut into wedges
1. Adjust oven rack to lower-middle position and heat oven to 450 degrees F. Mix olive oil, oregano leaves, red pepper, 1/4 teaspoon sea salt and pinch of ground pepper in small bowl; set aside.
2. Place chopped tomatoes in a medium bowl and toss with half the garlic mixture. Toss the zucchini with remaining garlic oil mixture.
3. Cut four 12-inch square sheets of foil; arrange four flat on counter. Shingle the zucchini slices in the center of each piece of foil.
4. Pat fish dry with paper towels; season with salt and pepper and place fillets on top of zucchini. Divide tomato mixture over each fillet.
5. Bring the sides of the foil up to meet over the fish. Crimp the edges together in a ¼" fold and the fold over 2-3 times. Fold the open edges at both ends of packets to tightly seal.
6. Place packets on rimmed baking sheet and bake for about 20 minutes.
7. Carefully open foil, allowing steam to escape away from you. Using thin metal spatula, gently slide fish and vegetables onto plate with any accumulated juices; sprinkle with basil. Serve immediately, passing lemon wedges separately.
– Recipe courtesy of Cook Like James