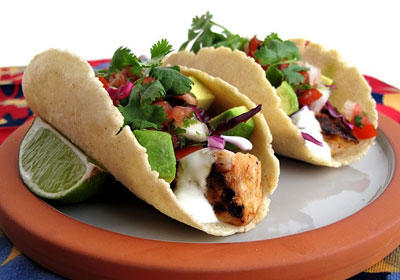 For easy grilling, grill the fish over a grilling basket—there will be less tendency for the fish to stick to the grates.
1 pound mahi mahi fillet, skin removed
3 tablespoons vegetable oil
1 tablespoon lime juice (about 1 lime)
1 tablespoon ancho chili powder
corn tortillas, recipe follows
pico de gallo, recipe follows
1/4 head red cabbage, shredded
diced avocado
sour cream
cilantro sprigs
lime wedges
Preheat a gas grill at medium-high to high heat. Place fish in a shallow dish. Whisk together oil, lime juice, and chili powder in a small bowl and pour over fish. Let marinate for 15 to 20 minutes.
Place fish on hot grill, flesh-side down and grill for 3 to 5 minutes. Flip and continue to grill until no longer opaque in the middle, about 1 to 3 minutes. Transfer fish to a plate and let rest for a few minutes. Break up into chunks for serving. Serve in warmed tortillas with pico de gallo, shredded cabbage, avocado, sour cream and cilantro. Serve with wedges of lime. Yield: 6 servings.
Corn Tortillas
2 cups corn flour
1-1/2 cups water
1 tablespoon salt
In a bowl, combine the corn flour, water, and salt. Mix until it reaches a smooth consistency—it shouldn't be too dry or sticky. Form the dough into a large disc and keep covered with a moistened towel while working with it.
Divide the dough into 12 equal-size balls. Working one at a time, flatten a ball between two sheets of wax paper and, using a tortilla press or a rolling pin, create a tortilla. Yield: 12 tortillas.
Preheat a griddle or skillet at medium heat. Cook tortillas 1 minute per side and keep warm until ready to eat.
Pico de Gallo
1 medium tomato, diced
1/2 red onion, diced
1 tablespoon lime juice (about 1 lime)
2 tablespoons chopped cilantro
fine sea salt
freshly ground black pepper
In a small bowl, combine tomato, red onion, lime juice, and cilantro. Season with salt and pepper. Yield: 1 cup salsa.
- Recipe courtesy of Joseph Erdos