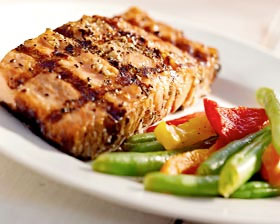 The salmon can be approximated at home, but only in the summertime.
Buy the best and most expensive side of Alaskan salmon you can find. Copper River works. Use a real grill and real charcoal, not briquettes.
Make sure all the bones are out. (Feel for them with your fingers and pull them out with a pair of pliers.) Keep it simple.
Grease up the salmon with extra-virgin olive oil. Salt and pepper generously. When the fire has dimmed past the hottest point, put on salmon, skin side down. Grill until it looks to be half done.
Turn over with two spatulas. Grill for a bit less time, then use the spatulas to put onto a serving platter. Garnish with a few pieces of lemon and a few sprigs of parsley.
Serve, thinking of ocean and river.