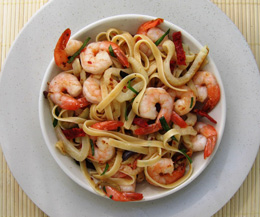 Makes 2 servings
4 oz tagliatelle (or linguine-type pasta)
4 tablespoon olive oil
1 small garlic clove, minced
1 small fennel bulb, thinly sliced
20-24 extra large raw shrimp
¼ cup sliced mixed green and black olives, such as Nicoise, Cerignola, or Kalamata
2 tablespoon sun-dried tomatoes, thinly sliced
1 tablespoon fresh basil, thinly sliced
1 tablespoon fresh parsley, thinly sliced
A few shakes of crushed of red pepper
Salt, to taste
Cook pasta in salted water according to directions.
In a large skillet over medium heat, add 2 Tbsp olive oil. Add fennel, and sauté for 3-4 minutes until it begins to brown; add garlic, and sauté 1 more minute. While the fennel is still slightly firm, remove from heat, and place in a bowl. Add the olives, sun-dried tomatoes, basil, parsley, crushed red pepper, and salt.
In the same skillet over medium-high heat, add another 2 Tbsp of olive oil. Add the shrimp, and sauté for 5-7 minutes, turning to ensure that they brown nicely on both sides.
Add the cooked pasta and the fennel mixture into the skillet with the shrimp; toss well. Plate the pasta; sprinkle with more fresh basil and parsley. Finish it off with a drizzle of good extra virgin olive oil.
-- Originally posted by Susan Russo on Food Blogga.