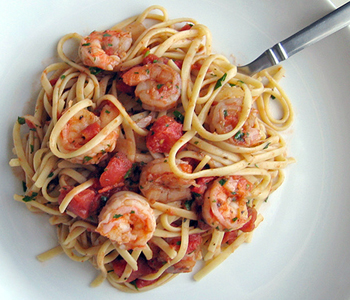 4 tablespoons olive oil, divided
1 pound large shrimp, peeled and deveined
1 teaspoon dried crushed red pepper flakes
coarse sea salt
freshly ground black pepper
1 medium yellow onion, chopped
3 garlic cloves, finely chopped
1 28-ounce can crushed tomatoes
1 cup dry white wine
1 teaspoon Italian seasoning
1 16-ounce package linguine
1/4 cup chopped fresh parsley

Heat3 tablespoons oil in a large heavy-bottomed pan over medium-high heat.Add shrimp, red pepper flakes, and salt and pepper, to taste. Cook,tossing, until opaque and cooked through, about 3 minutes. Removeshrimp from pan.

To the hot pan add 1 tablespoon oil, onion, andgarlic; sauté until translucent, about 5 minutes. Add tomatoes, wine,and seasoning. Simmer until the sauce thickens, about 15 minutes.

Whilesauce simmers, cook linguine according to package directions inliberally salted water. Return shrimp to pan and add pasta directly topan. Toss to coat pasta and warm shrimp throughout. Add parsley. Finishwith salt and pepper to taste.
Yield: 6 servings.
- Joseph Erdos