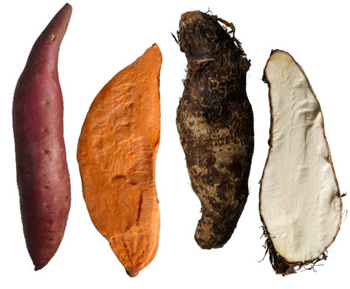 What is the difference between a sweet potato and a yam?
And here's the answer, according to the Library of Congress:

Although yams and sweet potatoes are both angiosperms (flowering plants), they are not related botanically. Yams are a monocot (a plant having one embryonic seed leaf) and from the Dioscoreaceae or Yam family. Sweet Potatoes, often called 'yams', are a dicot (a plant having two embryonic seed leaves) and are from the Convolvulacea or morning glory family.

Food Blogga Translation: Yams and sweet potatoes are different vegetables.

It turns out my local market has gotten it wrong too. What they have been labeling as yams are really red-skinned, orange-fleshed sweet potatoes. Apparently, sweet potatoes' skin and flesh ranges in colors, and they come in "hard" and "soft" varieties. It is the soft varieties, which become moist when cooked, that are typically labeled "yams" here in the United States.

Again, the Library of Congress: when soft sweet potatoes were first grown commercially in the US, there needed to be a way to differentiate them from hard ones. Apparently, African slaves in America had been calling the soft sweet potatoes yams since they looked like yams from Africa. As a result, soft sweet potatoes became known as yams in the States.

Considering that the U.S. produced 1.8 billion pounds of sweet potatoes in 2007, chances are you've bought some even if you didn't know it. And chances are that you're going to buy some for Thanksgiving too.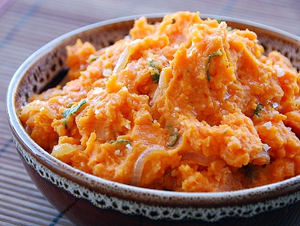 Whether it's sweet potatoes with marshmallows, sweet potato biscuits, or sweet potato pie, most of us will eat sweet potatoes this Thanksgiving. At my house it's going to be Olive Oil, Caramelized Onion, and Sage Mashed Sweet Potatoes.
Though I typically drown my sweet potatoes with butter and brown sugar, I decided to go less sweet and more savory this time. Use a high quality extra virgin olive oil and the freshest sage you can find.

And if you find yourself arguing with gathered guests at your dinner table that yams are different from sweet potatoes, then feel free to cite this seminal article: Blogga, Food. "Thanksgiving Side Dish Recipe: Olive Oil, Caramelized Onion, and Sage Mashed Sweet Potatoes." Food Blogga 4 November 2008: Vol. 2.

Olive Oil, Caramelized Onion, and Sage Mashed Sweet Potatoes
Serves 4

2 large sweet potatoes, washed, peeled, and diced (4 cups diced)
4 tablespoons olive oil, divided
1 large yellow onion, thinly sliced
2 tablespoons light brown sugar
4-5 large sage leaves, thinly sliced, or to your taste
1 teaspoon coarse sea salt
7-8 cranks of freshly ground black pepper
1-2 teaspoons quality extra virgin olive oil, for drizzling

Place diced potatoes in cold water in a medium saucepan. Bring to a boil and cook until tender when pierced with a fork. Drain immediately.

Meanwhile, heat 2 tablespoons olive oil in a large skillet over medium-low heat. Add sliced onions and brown sugar; stir occasionally, until the onions caramelize and turn a deep golden brown, about 10-12 minutes.

In a small skillet over medium heat, add remaining 2 tablespoons olive oil. Add sliced sage leaves and saute until lightly crisp. Remove from heat.

Using a hand-held potato masher or an electric mixer, mash potatoes to desired consistency. Add the caramelized onions and the crisp sage leaves in olive oil to the potatoes. Season with coarse sea salt and freshly ground black pepper. Stir until well blended. Drizzle with extra virgin olive oil and sprinkle with sea salt before serving.
Susan Russo is a free lance food writer in San Diego, California. She publishes stories, recipes, and photos on her cooking blog, <Food Blogga and is a regular contributor to NPR's <Kitchen Window. She is also the author of Recipes Every Man Should Know
and The Encyclopedia of Sandwiches
.