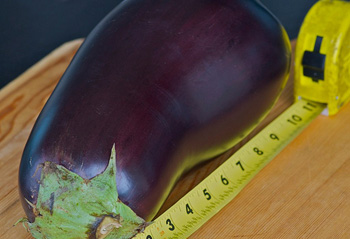 You just never know what you're going to find at the farmers' market. This past Sunday as I was walking toward a table heavy with eggplant I noticed something strange. The closer I got to it, the bigger it got. The eggplant was expanding right in front of my own eyes.

My first thought was, "Great, I mixed up my contact lenses again and have them in the wrong eyes." (Yes, I've done that before -- it distorts your vision.)

When I reached the eggplant, I bent down, staring closely at it. It stopped growing, and it was sharp and in focus. My eyes weren't deceiving me; these eggplants were far from normal. Sure, they still had their smooth, shiny, purple skin. But they were huge. Like beached whales, they were unmovable.

The farmer noticed me ogling and scurried over. "Is something wrong?" he asked.

"Oh, no. I'm just shocked at how big they are," I said.

He exhaled a sigh of relief and smiled warmly.

I picked one up. It was heavy, in the 1 to 2-pounds. I held it up, turning it around, admiring its muscular size and heft.

"So, what made them grow so large?" I asked.

"The sun?" the farmer said, asking me more than answering me.

"No, I mean did you do anything special to make them grow so large?"

"Water them?" he said, in that questioning voice.

"Are they heirloom eggplants? Are the seeds special? Are they from Jupiter?" I asked.

I was determined to get to the bottom of these freakishly large nightshades.

He furrowed his eyebrows and rubbed his chin between his thumb and forefinger. He paused then finally said, "Nope. They're just really big. Do you want to buy one?"

In typical supersized-American fashion, I said, "No, give me two."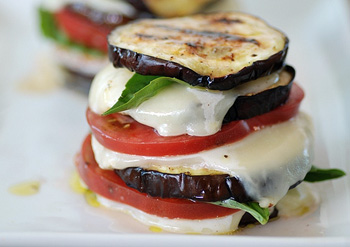 Grilled Eggplant Napoleons
Makes 4 servings

Dressing:
2 tablespoons extra virgin olive oil
2 tablespoons red wine vinegar
1 tablespoon lemon juice
a generous sprinkling of salt and freshly ground black pepper

Eggplant:
2 medium eggplant, sliced into 3/4-inch rounds, about 20 slices total
1-2 tablespoons olive oil for brushing eggplant
a generous sprinkling of salt and freshly ground black pepper
2 large beefsteak tomatoes (or large heirloom tomatoes), sliced into 1/2-inch rounds
1 small bunch of fresh basil
8-10 ounces fresh mozzarella cheese, cut into 1/4-inch thick rounds


1. Whisk all dressing ingredients in a small bowl; set aside.

2. Preheat grill to medium high.

3. Brush eggplant slices with olive oil, and sprinkle generously with salt and pepper. Place on a hot grill that has been lightly oiled. Grill eggplant for 5-7 minutes per side, or until tender and lightly charred.

4. To assemble stacks, start by placing an eggplant slice on a plate. Top with a slice of cheese, then tomato, then basil. Repeat one more time. End with a slice of eggplant. Repeat with remaining ingredients until 4 stacks are made. Drizzle with dressing, and serve immediately.

Variations:
Drizzle with basil pesto.
Substitute arugula for basil.
Add slices of roasted red pepper.
Add olive tapenade in between layers.
Susan Russo is a free lance food writer in San Diego, California. She publishes stories, recipes, and photos on her cooking blog, <Food Blogga and is a regular contributor to NPR's <Kitchen Window. She is also the author of Recipes Every Man Should Know
and The Encyclopedia of Sandwiches
.