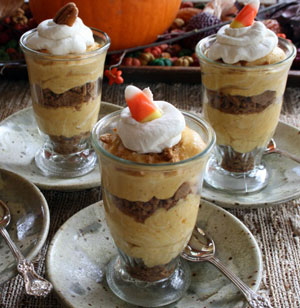 I stopped at two grocery stores today and both were completely out of Libby's brand canned pumpkin. Years ago, when I first moved to Fargo, I had a young neighbor (we were both young at that time) who grew up in a small town not too far from Fargo. She often talked about the wonderful things her mom could whip up in the kitchen. Once, when we were discussing some kind of pumpkin dessert, this neighbor told me the only kind of canned pumpkin her mom would use was Libby's. That was enough for me. I've been buying Libby's ever since, except for the times I buy an organic brand of pumpkin. But today, with no Libby's on the grocery store shelves, I wound up buying the store brand.
I used the store brand to whip up this pumpkin mousse. Guess what? It tastes perfectly delicious when mixed up with pumpkin spices, whipped cream and vanilla pudding.
I like to layer the creamy pumpkin mousse with crushed cookie crumbs. Today I pulled a box of Trader Joe's Almond Butter Thins from my freezer. I crushed some of them in a large zip-top plastic bag, using my fist as a hammer. In the past, I've used ginger snaps in the parfaits. But, I think I'm sold on the Almond Butter Thins.
The Almond Butter Thins make perfect dippers for the Mousse. A bowl of the Pumpkin Mousse surrounded by your favorite cookies would be a nice sweet treat to have out at a party.
The Mousse can also be spooned into a crumb crust and topped with the remaining whipped cream to make an extra special no-bake pumpkin pie.
I love these individual, not-too-big parfaits to serve as a light, something sweet ending to a meal. They're nice for Thanksgiving, too. I made a couple larger desserts in custard cups to share with my next door neighbors.
Get creative as you choose little glasses or cups that will be filled with Pumpkin Mousse Parfaits. I use something different every time I make them. But, they always taste the same — like a creamy, dreamy pumpkin pie. So much better than the traditional pumpkin pie that I've openly admitted to not being very fond of.
Pumpkin Mousse Parfait
1 pint heavy whipping cream
2 tablespoons powdered sugar
2 teaspoons pure vanilla extract
1 (5.1-ounce) package vanilla instant pudding mix
1 (15- to 16-ounce) can pumpkin puree
1 cup cold milk
1/2 teaspoon ground nutmeg
1/2 teaspoon ground cinnamon
1/2 teaspoon ground ginger
Cookies or graham crackers, crushed
Pecan halves or candy corn, for garnish
In a mixing bowl, beat whipping cream with powdered sugar and vanilla until stiff peaks form. Put in the refrigerator while mixing pumpkin mousse.
In another mixing bowl, use a wire whisk to blend pumpkin with pudding mix. Gradually add milk, blending well after each addition. Add nutmeg, ginger and cinnamon and mix well. Gently fold half of the whipped cream into the pumpkin mixture.
Put a layer of crushed cookies in the bottom of custard cups or small glasses. Spoon some pumpkin mousse on top of cookies in each glass. Repeat layers of crushed cookies and pumpkin mousse as many times as you wish. If not serving immediately, cover the parfaits with plastic wrap and refrigerate. At serving time, top each parfait with a light sprinkle of crushed cookies and a dollop of whipped cream. Garnish with a pecan half or a candy corn.
Makes 8 to 10 parfaits in 4-ounce glasses.
Sue Doeden is a popular cooking instructor, food writer and integrative nutrition health coach. She is the host of Good Food, Good Life 365 on Lakeland Public Television. Her own hives full of hardworking bees and her love of honey led to the creation of her recently published cookbook, Homemade with Honey.