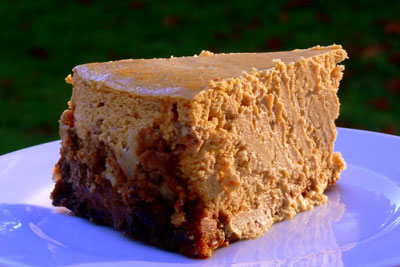 Who doesn't love pumpkin cheesecake (a million hands just went up, right?). And who wouldn't love pumpkin cheesecake with a gingersnap-pecan crust? Well you've come to the right place.

I often prefer pumpkin cheesecake to pumpkin pie at Thanksgiving, it has such a creamy, yummy texture and is a good addition to all the other desserts I will be making for the Thanksgiving dessert buffet.
Pumpkin Cheesecake

Crust:
1-1/2 cups gingersnap cookie crumbs
1/2 cup finely chopped pecans
6 Tablespoons unsalted butter, melted
1/4 cup sugar

Filling:
Three 8 ounce packages cream cheese, room temperature
1/2 cup packed light brown sugar
1/4 cup sugar
2 large eggs plus 2 large egg yolks, room temperature
1 cup canned pumpkin puree
1/2 cup sour cream, room temperature
2 teaspoons vanilla extract
1-1/2 Tablespoons all-purpose flour
2 teaspoons pumpkin pie spice

To make the crust, preheat oven to 350o F. Butter an 8" springform pan (make sure it's the right size). Cover the outside of pan with 2 layers of foil. Stir together all crust ingredients. Press into bottom and up sides of pan. Bake for 10 minutes. Let cool on a rack.

To make the filling, with an electric mixer on medium speed, beat cream cheese and both sugars until light. Beat in eggs and yolks, 1 at a time. Beat in pumpkin, sour cream and vanilla. Reduce speed to low; beat in flour and spice. Pour into crust.

Place cheesecake into large roasting pan, as you see here. Fill pan with 2" of hot water. Bake until cake is set around the edges but still slightly jiggly when lightly shaken (cake will firm as it cools), 55 to 65 minutes. Once you check the cake for doneness, turn off the oven and leave the door closed for several hours. It is the sudden changes in temperature that cause cracks in the tops of a cheesecake so let it slowly cool down in the oven.

After several hours it will still be warm, go ahead and pull it out of the oven, still in the roasting pan of water and let it cool more on the counter. Once cooled, remove it from the water, cover it and refrigerate it overnight or up to 2 days.
Cathy runs her own vineyard and winery in the Willamette Valley of Oregon. She is a food writer forDavis Life Magazine and blogs daily about wine, food and everydayliving. She lives with her husbandand two sons. You can visit her at noblepig.com.