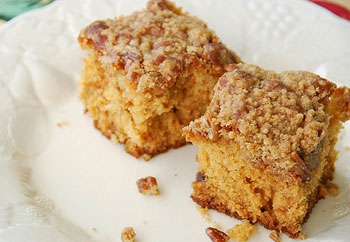 It's the same every autumn. Pears sit quietly in the wings while apples take center stage.

It's no wonder. Think about it. Do kids crave candied pears every Halloween? Do moms pack pear sauce in their kids' lunch boxes? Can something be as "all-American as pear pie"?

Pears are good. Some pears, such as Seckel pears – diminutive, super sweet fruits – are surprisingly good. Overall though, they just don't get the respect of apples.

When it comes to baking, however, pears blossom into something special. In fact, I have made this cardamom coffee cake with pecan streusel twice – once with apples and once with pears. You can tell which one I preferred.

Given their mild flavor, pears work beautifully with cardamom, a enticingly fragrant spice. Though a relative of ginger, cardamom has a unique flavor that is difficult to describe. It is intensely aromatic yet not overwhelming in flavor. It has notes of ginger, clove, and citrus, which is why it works so well when paired with fall fruits.

So, go ahead and give pears a little limelight.

Pear and Cardamom Coffee Cake with Pecan Streusel
Topping:
1/2 cup all-purpose flour
1/3 cup brown sugar
1/8 teaspoon salt
1/8 teaspoon ground cardamom
1/2 cup chopped pecans
4 tablespoons butter, melted

Cake:
1 cup diced, peeled, firm but ripe pears, such as yellow bartlett or bosc
2 cups all-purpose flour
2 teaspoons baking soda
1/4 teaspoon salt
1 teaspoon ground cardamom
6 tablespoons unsalted butter
2/3 cup granulated sugar
2 large eggs
2 teaspoons grated lemon zest
1 teaspoons pure vanilla extract
3/4 cup buttermilk

Place rack in center of oven and preheat to 350 degrees F. Butter or coat with cooking spray an 8 inch square pan.

To make the streusel, in a small bowl combine flour, sugar, salt, cardamom and pecans and toss until well combined. Pour melted butter evenly over mixture, and using your fingers quickly toss and pinch the mixture until little pebbly pieces form. Refrigerate while making the cake.

Peel and dice pears and set aside.

In a large bowl, combine flours, baking soda, salt, and cardamom.

In another large bowl, using an electric hand mixer cream the butter and sugar. Add eggs, lemon zest, and vanilla and beat at medium speed until light. Reduce speed to low and add the buttermilk. Beat until well blended. Add the dry ingredients; beat until just incorporated and the flour is dissolved. The batter will be thick and creamy. Using a rubber spatula, fold in the diced pears until well blended.

Pour the batter into the pan and gently shake it to even it out. Sprinkle the pecan streusel evenly over the top of the cake and press lightly with your hands.

Bake for 35 - 45 minutes, or until the cake is golden brown and a cake tester inserted deep into the center comes out clean. Transfer the cake to a rack and cool for 10 minutes before unmolding onto the rack to cool at room temperature.

Unmold the cake, and place on a rack. Allow to set for at least 15 minutes before slicing.
Susan Russo is a free lance food writer in San Diego, California. She publishes stories, recipes, and photos on her cooking blog, <Food Blogga and is a regular contributor to NPR's <Kitchen Window. She is also the author of two upcoming books that will be published in the fall of 2010.