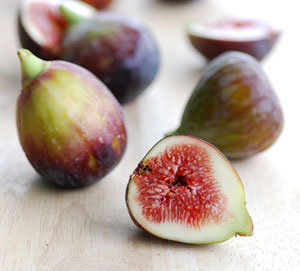 This past weekend at the BlogHer Conference, I was on a panel entitled, "The Meaning of Identity and The Value of Voice in a Crowded Foodblogging World." I shared the stage with three lovely and talented food bloggers: Dianne of Will Write For Food, Garrett of Vanilla Garlic, and Ree of Pioneer Woman.
When asked to identify "voice," we all agreed: Voice is an expression of you – your personality, your beliefs, your attitudes, your quirks, etc. My post today is a perfect illustration of that.
Every time I get dressed to go out, I try on at least two, sometimes three different outfits. Even if the first outfit is ideal for the occasion, I feel compelled to try on at least one another. What if I don't like the way that dress looks when I put it on? What if I'm cold in a sleeveless top? What if? What if? What if?
Maybe it's a touch of OCD. Maybe it's because I'm a closet What Not To Wear addict. Maybe it's just because I'm indecisive. I don't know. I don't care. After 30- some- odd years, I've decided to just go with it. (Fortunately, Jeff has too.)
Apparently, I have the same problem with fresh fig cake recipes. I was all set to post on one fresh fig cake when I got this incurable itch to make another. What if it's sweeter? What if it's better with some fresh rosemary? What if? What if? What if?
So I tried on a second recipe. My verdict? There's both delicious (and stylish). That's the beauty of blogging. I don't have to choose. I can wear both.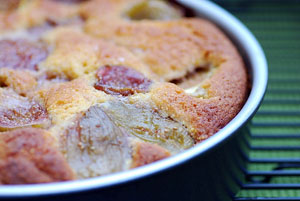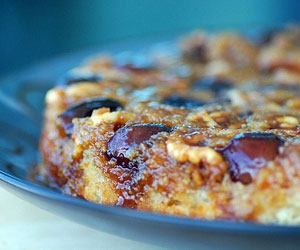 Though both cakes are made with fresh figs, they're not at all like one another. The first, a fig and polenta cake, slightly adapted from Dorie Greenspan's Fig Cake for Fall recipe, is rustic and boozy. It's the kind of the cake that's ideal for sharing with good friends and good wine on a lazy weekend afternoon.
The second is my Fresh Fig, Walnut, and Rosemary Upside-Down Cake, which I adapted from my grandmother's famous pineapple upside-down cake recipe. I've got to tell you, I'm smitten with this cake. The lush, ripe figs become encased in a buttery brown sugar crust, while the savory rosemary and tangy lemon balance the cake's sweetness perfectly.
I won't tell you which fresh fig cake you should make because that would be presumptuous. So, I'll tell you this instead: Make both. OK, so maybe that is presumptuous, but it's better than saying, "I couldn't make up my mind."
Fresh Fig, Walnut, and Rosemary Upside-Down Cake
Makes 8 servings
Print recipe only here.

1/2 cup butter (8 tablespoons)
1 cup brown sugar
10 fresh, ripe figs of your choice, tips removed, halved
2 teaspoons fresh rosemary, finely chopped, divided
2-3 tablespoons walnut pieces, or as many as needed
1 cup flour, sifted*
1 teaspoon baking powder
1/8 teaspoon salt
3 eggs, separated
1 cup granulated sugar
4 tablespoons lemon juice
zest of 2 lemons
1 teaspoon pure vanilla extract

1. Position a rack in the center of the oven, and preheat to 350 degrees F.

2. Add butter to a 9-inch-round baking pan, and place inside of a warm oven until melted, about 5 minutes. Remove from oven, and sprinkle brown sugar evenly over the butter. Add figs, flesh side down, and sprinkle with 1 teaspoon of the rosemary. Fill in the nooks and crannies with walnut pieces.

3. In a medium bowl, combine sifted flour, baking powder and salt, and stir.

4. Using a hand mixer, in a metal or glass bowl, beat egg whites at high speed until fluffy. Set aside.

5. In a separate bowl, beat egg yolks with sugar at medium speed until creamy. Add lemon juice, zest, vanilla extract, and remaining 1 teaspoon rosemary, and beat well. Add the flour mixture to the creamed mixture, and beat until well combined. Fold in the egg whites with a rubber spatula. Pour cake mixture evenly over the fruit, and smooth with the spatula.

6. Bake for 40 minutes, or until cake is golden and a toothpick inserted into the center comes out clean. Place on a wire rack to cool for 10 minutes. Run a blunt knife around the edges of the pan to loosen the cake. Invert carefully onto a plate. Serve warm or at room temperature.

*Note: Sifting the flour creates a lighter cake.

Don't forget to drizzle each slice of Dorie's fig cake with some spiced wine sauce.
Dorie Greenspan's A Fig Cake for Fall
Makes 8-10 servings
Print recipe only here.

This is Dorie Greenspan's recipe for A Fig Cake for Fall from her book, Baking: From My Home to Yours. Since I adapted it ever so slightly, I merely added the changes in parentheses where applicable.

3/4 cup ruby port (I used Muscato)
1 cup honey, divided
2 thin slices lemon
1/4 teaspoon cinnamon (my addition)
16-20 fresh figs, stemmed and halved (I used Calimyrna)
1 1/2 cups all-purpose flour
1/2 cup yellow cornmeal, preferably medium grind
2 teaspoons baking powder
1/4 teaspoon salt
1/4 cup sugar
grated zest 1/2 lemon (I used 1 whole lemon)
1 1/2 sticks (12 tablespoons) unsalted butter, cut into 6 pieces, at room temperature
3 large eggs, preferably at room temperature
1 teaspoon pure vanilla extract

1. Stir the port and 1/2 cup honey together in small saucepan. Add lemon slices and bring to a boil over medium heat. Lower the heat. Add figs, cover, and cook 4-6 minutes, or until figs are soft but not falling apart. Using a slotted spoon, transfer figs to a bowl. Raise the heat to medium and cook the liquid for 15 minutes, or until slightly thickened; the syrup should coat a metal spoon. Remove from heat and let cool.

2. Place a rack in the middle of the oven and preheat to 350 degrees F. Butter a 9-inch springform pan. Line the bottom with parchment paper and butter the paper. Dust the inside of the pan with flour, tapping out the excess. Put the pan on a baking sheet lined with parchment.

3. Whisk flour, cornmeal, baking powder, and salt.

4. In a separate bowl, add sugar and lemon zest; rub together with your fingertips until the sugar is moist. Add butter. Using a hand mixer, beat the butter and sugar at medium speed until creamy, about 3 minutes. Add the eggs one at a time, beating for 1 minute after each addition. Pour in remaining 1/2 cup honey, and the vanilla extract; beat for 2 minutes. Reduce mixer speed to low, add dry ingredients, and mix until just incorporated. The batter will be fairly thick. Scrape the batter into the prepared pan and jiggle the pan from side to side to even out the batter. Scatter poached figs over the top.

5. Bake for 55-60 minutes, or until the cake is puffed and golden brown and a knife inserted into the center comes out clean. Transfer the cake to a rack and cool for 10 minutes before running a blunt knife around the edges and releasing the sides of the pan. Cool the cake slightly before serving. Serve warm or at room temperature. Drizzle slices with wine sauce.
Susan Russo is a free lance food writer in San Diego, California. She publishes stories, recipes, and photos on her cooking blog, <Food Blogga and is a regular contributor to NPR's <Kitchen Window. She is also the author of two upcoming books that will be published in the fall of 2010.