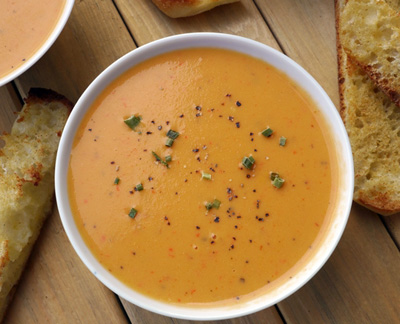 It was one of those days, dreary and cold, and it was my turn to make lunch (I've told y'all how much I dislike making lunch). Mostly I was dreading it because I knew the fridge was devoid of leftovers I could just heat up and call good.
I strolled into the kitchen and opened the vegetable drawer. There it was, two red bell peppers, celery that needed a purpose and half an onion from the last soup I had thrown together. Luckily, inspiration hit and within 30 minutes, this soup and lunch was served. It was delicious and is now in the fall/winter soup rotation over here.
The coconut adds the Asian flare I was looking for and the Thai-style sweet chili sauce balances it all out. This soup is so easy to make and the flavor is bold. You will love it.
Creamy Red Pepper-Coconut Soup
Recipe Created by Cathy Pollak for NoblePig.com | Serves: 4
Ingredients:
2 Tablespoons butter
1/2 one large onion, chopped
5 stalks celery
2 large red bell peppers, cored, seeded and chopped
1 teaspoon minced garlic
1 can (14.5 ounce) chicken broth
1 can (14 ounce) lite or regular unsweetened coconut milk
1/4 cup Thai style sweet chili sauce
1-1/4 teaspoon table salt
3/4 teaspoon coarsely ground black pepper
1/4 cup heavy cream
Directions:
Melt butter in a large Dutch oven (7-quart) over medium heat. Saute onion, celery and red peppers until softened; about 5 minutes. Add garlic and saute for 30 seconds more.
Add chicken broth, coconut milk, sweet chili sauce, salt and pepper. Bring to a boil and simmer on low for 10 minutes.
Puree in a blender (two batches) until smooth. Pour soup back into Dutch oven and add cream, stirring until incorporated. Taste and season to your liking.
Serve with crunchy garlic bread sticks for dipping.
Cathy is currently in the development stages of her vineyard and winery in the Willamette Valley of Oregon. She is a food writer for Davis Life Magazine and blogs daily about wine, food and everyday living. She lives with her husband and two sons. You can visit her at noblepig.com.