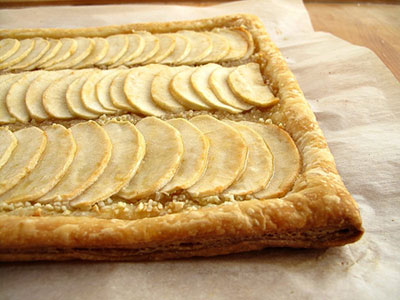 Apple pie, apple crisp, apple turnovers, apple tart, apple sauce, apple cider—it's the season for apples. I can't think of a better way of enjoying it other than by baking with apples. Who doesn't love a classic apple pie this time of year?
They're worth making from scratch—the dough, the subtly spiced apple filling, warm out of the oven. But when you want to quickly put together an apple dessert, a pie just takes too much attention. That's when this simple tart comes in to play.

Based on a French apple tart, which is made with a pastry dough bottom, this recipe uses store-bought puff pastry instead. It's a shortcut that's worth making. The crisp puff pastry, soft apples, and sweet almond filling all come together to make one amazing dessert that's impressive enough to fool anyone into thinking it took all of your time.
Typically the classic recipe would use applesauce as a base under the apple slices, but that would make this puff pastry tart incredibly soggy. So, instead this recipe uses almonds, sort of like a frangipane tart.
When working with puff pastry, be careful to handle it as little as possible. Trim around the edges of the rectangle of dough using a sharp knife. Don't pull the knife, but cut down. Using a pastry wheel or dull knife would compact all the buttery layers of the dough, inhibiting it from rising in the oven. For this tart, score a border around the edge to create a clean line of demarcation between the apples and crust. Docking the main area with a fork keeps the center from puffing up unevenly during baking. If, after baking, there are puffy bumps under the apple layer, use a pin to to let out the steam. Serve this beautiful tart with afternoon coffee and tea or for any special or ordinary occasion.
Apple Puff Pastry Tart

1 sheet puff pastry, preferably Dufour, defrosted overnight
1/3 cup slivered blanched almonds
2 tablespoons granulated sugar
2 apples, preferably Cortland, McIntosh, or Macoun
2 tablespoons lemon juice (about 1/2 lemon)
1/4 cup light-brown sugar
2 tablespoons apricot jelly

Unfold puff pastry dough on a large sheet of parchment paper, lightly dusted with flour. Dust the rolling pin with flour and roll out dough to about a 10-inch-by-15-inch rectangle. Brush off any excess flour. Using a ruler as a guide, trim off excess dough along the entire perimeter. Transfer pastry with parchment paper to a rimless baking sheet. Using a ruler and the back of a knife, score a 1/2-inch border around the pastry. Using a fork, dock the interior area sparingly. This will keep the center from puffing unevenly. Transfer the pan to the refrigerator to chill while preparing the apples.

Preheat the oven to 400 degrees F.

In a food processor, pulse the almonds and sugar until finely ground.

Peel and core the apples. Slice them very thin, about 1/8 thickness. Toss with lemon juice to prevent browning.

Spread the almonds on the pastry. Evenly and overlappingly lay the apple slices over the almond mixture, creating three rows lenghtwise. Sprinkle the brown sugar over the apples. Brush off any almond crumbs or sugar from the pastry border and the pan.

Reduce the oven temperature to 375 degrees F. Bake the tart until the pastry is golden and the apples are soft, about 25 minutes.

While the tart cools, mix the jelly with 2 tablespoons hot water. Strain out any solids. Brush the apple slices with the jelly glaze. Cut the tart into squares and serve. Yield: 8 large or 12 small squares.
Joseph Erdos is a New York–based writer and editor, butabove all a gastronomer and oenophile. He shares his passion for foodon his blog, Gastronomer's Guide , which features unique recipes and restaurant reviews among many other musings on the all-encompassing topic of food.