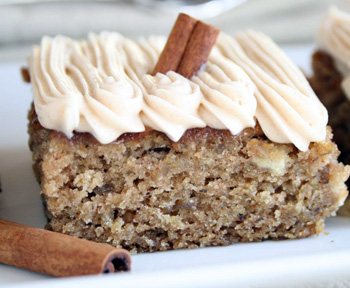 Years ago I made an oatmeal cake that was moist, dense and delicious with a thick layer of cream cheese frosting slathered over the top. When we had out-of-town friends staying with us last week, I thought of that cake that I haven't made in years when I served baked oatmeal for breakfast one morning.
I flipped through my recipe file and found the cake recipe that I'd clipped from a newspaper many years ago. I added a seasonal touch to the cake with the addition of chopped, locally grown apples. Since I had a ripe banana in the freezer, I stirred that into the batter, too. A bit of cinnamon added to the cream cheese frosting turned the cake into an autumn treat.
Oatmeal, tart apples, cinnamon and banana paired with cream cheese — can't get much better — unless you add some toasted chopped pecans. I shared the cake with others and discovered that a short length of cinnamon stick poked into each piece of cake worked well as a support for plastic wrap, preventing the plastic from sticking to the frosting and ruining its attractiveness. Once you taste this cake, you may choose not to share.
Apple and Banana Oatmeal Cake
1 cup quick oats, uncooked
1 cup boiling water
1/2 cup butter
1 cup sugar
1 cup brown sugar
1/2 cup buttermilk
1 banana, mashed
2 eggs, beaten
1 teaspoon pure vanilla extract
1 1/2 cups all-purpose flour
1 1/4 teaspoon baking soda
1/2 teaspoon salt
1/2 teaspoon nutmeg
1 teaspoon cinnamon
1 1/2 cups diced, peeled apples
Preheat oven to 350°F. Grease and flour and 9- x 13-inch pan. Set aside. Pour boiling water over oats in a bowl. Allow to sit for 20 minutes.
In a large mixing bowl, beat butter with granulated sugar and brown sugar until light and fluffy. Add soaked oats, buttermilk and mashed banana. Blend well. Add eggs and vanilla. Beat to incorporate.
Sift flour with baking soda, salt, nutmeg and cinnamon. Add to batter and stir just until dry ingredients are no longer visible. Stir in apples.
Spread batter into prepared pan. Bake in preheated 350-degree oven 35 to 40 minutes, or until a wooden pick inserted into middle of cake comes out clean. Remove cake from oven. Cool completely in pan.
When cake is cool, frost with Cinnamon Cream Cheese Frosting.
Cinnamon Cream Cheese Frosting
4 ounces cream cheese, softened
6 tablespoons butter, softened
1 tablespoon whole milk
1 teaspoon pure vanilla extract
1/2 teaspoon cinnamon
3 cups powdered sugar
Beat cream cheese with butter until smooth and creamy. Add milk, vanilla and powdered sugar. Beat until frosting is smooth and spreadable.
Sue Doeden is a popular cooking instructor, food writer and integrative nutrition health coach. She is the host of Good Food, Good Life 365 on Lakeland Public Television. Her own hives full of hardworking bees and her love of honey led to the creation of her recently published cookbook, Homemade with Honey.