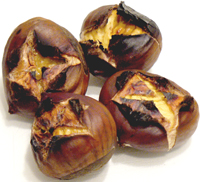 Thanksgiving in our house wasn't Thanksgiving without a stupid amount of chestnuts that needed to be roasted and peeled for stuffing. It was actually fun in a punishing sort of way. We were the house that hosted all the Thanksgiving orphans and to be able to eat on Thanksgiving you had to come over the night before and help roast and peel. Much hilarity ensued as everyone became convinced that their technique was the one way to peel the difficult buggers.

By the time the actual meal came around I was so full from tasting stuffing and eating the crumbled chestnuts that facing that groaning table made me want to groan. So I had my own meal I created from the bigger meal around me.

Before we sat down to eat, while the adults were having a drink and cheese, I became obsessed with my aunt's bowlfuls of Spanish peanuts, raisins and chocolate chips that were set throughout the living room. Forget gorp or trail mix or even Chex mix. That combo was like eating the best cookie ever without the dough.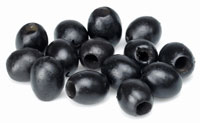 Then once we sat down to eat, the relish dish became my focus in the form of those rubbery black olives I placed on each finger and carefully consumed. Such a fun ritual now denied to foodie children who have probably never had a canned California olive.

So finally, after helping to prepare the meal, all I really wanted to eat was a fresh salad with my mom's signature garlicky-parmesan vinaigrette. Since everyone else helping to prepare the meal thought I was nuts for including salad on the table I just made a big bowl for myself.
That was my Thanksgiving day dinner – Aunt Ruthie's nutty mix, fingertip olives, then salad with a side of mashed potatoes and gravy. I saved the traditional meal for the next day when the smells permeated everything in the house and I couldn't resist.
Evan Kleiman is chef owner of Angeli Caffe, co-author of the classic cookbooks Cucina Fresca, Pasta Fresca and Cucina Rustica and host of Good Food, a radio show which airs on KCRW 89.9fm in Southern California. Good Food Website