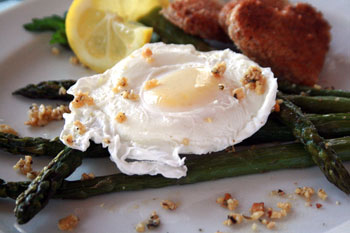 1 to 1 1/2 pounds asparagus spears, washed, tough ends removed
3 tablespoons olive oil, divided
1 tablespoons butter
1 clove garlic, minced
1/4 cup slivered almonds, ground
1/4 teaspoon salt
1 teaspoon Italian seasoning blend
Splash of fresh lemon juice, about a teaspoon
Salt and freshly ground black pepper to taste
4 eggs
1 tablespoon white vinegar
Preheat oven to 425 degrees. Toss prepared asparagus spears with 2 tablespoons olive oil. Arrange asparagus spears in a single layer on a foil-lined baking sheet with sides. Sprinkle with salt and pepper. Roast in preheated oven for 10 to 14 minutes, until spears are fork tender. Remove from oven and set pan aside.

While asparagus is in the oven, make Toasted Almond Crumble by heating 1 tablespoon olive oil and 1 tablespoon butter in a small skillet. Add garlic, almonds, 1/4 teaspoon salt and Italian seasoning. Stir over medium heat until almonds are toasted. This will take just 2 or 3 minutes. Immediately transfer almond mixture to a small bowl. Add lemon juice and blend. Set aside.

Pull out a 9- or 10-inch pan with a lid. Add water to about 1/2-inch from top of pan. Add vinegar. Bring to a boil. Reduce heat. Break each egg into a custard cup, and slide into the water. When all the eggs are in the pan, use a spoon to scoop the whites close to the yolks, cover and set timer for 2 to 4 minutes, depending on how you want the yolk to be cooked.

Warm 4 plates in the oven while eggs are cooking. The oven should still be warm from the roasting asparagus.

Carefully transfer poached eggs to a paper towel to drain. Arrange 6 asparagus spears on each of 4 plates. Top with an egg. Sprinkle with Toasted Almond Crumble. Serve immediately (with whole grain toast that's been cut with a heart-shaped cookie cutter to really make your diners smile).
Makes 4 servings.
- Recipe courtesy of Sue Doeden