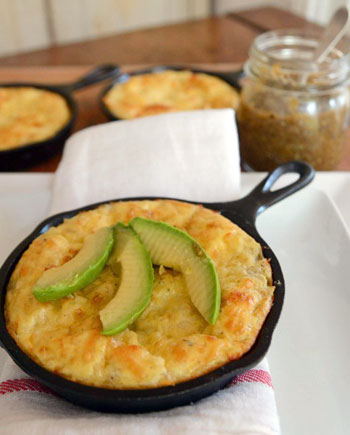 Ingredients:
3 tablespoons unsalted butter, divided
5 large, organic eggs, beaten
2 1/2 ounces | 72 grams | 1/4 cup gluten free flour (or regular AP flour)
1/2 teaspoon baking powder
1/4 teaspoon Celtic sea salt
1/4 teaspoon white pepper
3 1/2 ounces | 100 grams | 1/4 cup diced green chilis
1/2 white onion, diced and sauteed
8 ounces | 228 grams | 1 cup cottage cheese
8 ounces | 226 grams | 2 1/2 cups grated Jarlsberg cheese
2 ripe Mexican avocados, sliced into wedges.
Instructions:
Preheat oven to 350°F. Line a rimmed baking sheet with parchment and place 6 – 5″ cast iron skillets on the baking sheet.
Heat a heavy duty skillet and add 1 tablespoon of butter to melt. Add onions and saute until translucent, 8 – 10 minutes. Set aside.
Divide the remaining two tablespoons of butter into 6 equal parts and place a piece of butter into each skillet. Place in the oven for 3 minutes or until butter has melted. Remove from the oven and set aside. Make sure each skillets is coated well with the melted butter.
In medium bowl, whisk eggs. set aside. In a large glass bowl, mix the rest of your ingredients. Add the eggs and mix to combine. Divide the mixture evenly between the 6 skillets. Dot each with a little bit of additional butter.
Bake for 26 – 28 minutes or until golden brown on top and slightly bubbly.
Let cool for about 5 minutes before serving. Top with avocado and enjoy!
Yield: 6 servings
* If baking for a crowd, double the recipe and bake in 9″ x 13″ ceramic baking dish and bake for 45 – 50 minutes.
* Can be assembled a day in advance and refrigerated. Bring to room temperature before baking.
Roasted Tomatillo Sauce
Ingredients:
1 white onion, peeled and cut in half
8 tomatillos, peeled and washed
1 Serrano chili
2 cloves garlic, peeled
1/3 cup vegetable stock ( prefer homemade)
1 teaspoon Celtic sea salt
1/4 teaspoon ground pepper
Instructions:
Heat a large cast iron skillet. add 1 tablespoon sunflower oil. to coat pan wipe entire surface with a paper towel, making sure to cover the area with oil.
Add onion, tomatillos, Serrano chili, and garlic. Cook until vegetables are charred (turning after 10 minutes) for 20 -25 minutes. For a milder sauce, cut Serrano chili in half and remove seeds and stem. Add to a blender with the onion, tomatillos, garlic, and vegetable stock. Coarsely puree. Add salt and pepper to taste. Can be stored in the refrigerator for 2 weeks
Yield: 1 cup
- Recipe courtesy of Susan Salzman