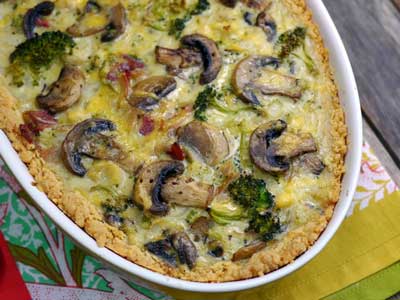 Recipe by NoblePig.com | Serves: 6-8
Ingredients
Crust:
8 oz

shredded extra sharp cheddar cheese (shred yourself)

1-1/2 cups

all-purpose flour

1 teaspoon

salt

1/2 teaspoon

cayenne

1/2 teaspoon

dry mustard

1/2 cup

butter, melted
Pie:
3 cups

broccoli, small pieces of the crown

3 cups

cauliflower, small pieces of the crown

2 Tablespoons

butter

4.5 ounces

sliced fresh mushrooms

2 large

shallots, finely chopped

1 Tablespoon

all-purpose flour

1/2 cup

heavy cream

1/2 cup

whole milk

1 teaspoon

salt

6 slices

bacon, cooked, crispy, chooped

3 large

eggs, slightly beaten
Directions
In a large bowl, mix together all ingredients for the crust until fully incorporated and moist. Press mixture into the bottom and up the sides of a 2-quart baking dish, forming a rustic looking crust. You won't want any holes in the bottom for the liquid to seep through.
Add broccoli and cauliflower to a skillet with half a cup of water. Cover. Steam until veggies are tender but still firm, maybe 5 minutes. Drain and keep covered until ready to use.
In another skillet, melt butter over medium heat. Saute shallots and onions until tender. Stir in flour until fully incorporated. Add cream, milk and salt. Bring to a boil and cook for 1 minute. Remove from heat and stir in broccoli, cauliflower and bacon. Slowly stir in eggs (you don't want them to cook). Pour mixture into the crust.
Bake for 15 minutes in a 400 degree F oven. Reduce heat to 375 degrees F and bake for another 20 minutes or until a toothpick in the center comes out clean.
*To get the perfect looking mushrooms and broccoli on top, I made a little extra and placed it on the surface after I had poured the rest of the batter in. I also sprinkled with a little bit of extra cheddar cheese.
- Recipe courtesy of noblepig.com.