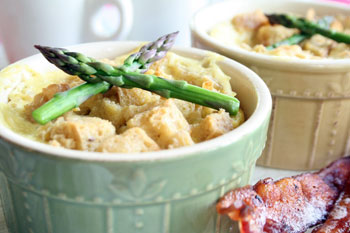 3 large eggs
3/4 cup milk
1 tablespoon butter, melted
Salt and pepper
2 English muffins, cut into bite-sized chunks
1/4 cup shredded Swiss cheese
6 asparagus spears, cooked crisp-tender, cut into bite-sized pieces
2 teaspoons finely chopped fresh chives
Lightly grease the inside of two (10- to 12-ounce) ramekins. In a bowl, beat eggs, milk, butter and some salt and pepper.
Put 1/4 of the English muffin pieces into bottom of each ramekin. Layer with 2 tablespoons grated cheese in each, 1/2 of asparagus pieces in each one, 1 teaspoon of chives in each ramekin, and top with remaining pieces of English muffin. Slowly pour egg mixture over layers, using half of it for each ramekin. Cover ramekins with plastic wrap and refrigerate overnight or up to 2 days.
Preheat oven to 325 degrees. Remove plastic wrap from ramekins. Place ramekins on a small baking sheet to catch any drips that my slip over the sides. You don't want to start the day with a smoky kitchen. Bake for 25-30 minutes, until egg mixture is set. Serve hot. Makes 2 servings.
Sue Doeden