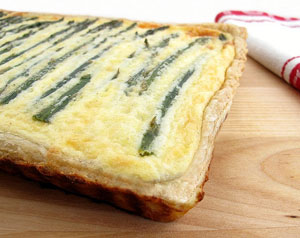 1 bunch asparagus, trimmed of tough ends
1 tablespoon olive oil
fine sea salt
freshly ground black pepper
6 ounces thick-cut applewood-smoked bacon (about 6 slices), diced
tart shell, recipe follows
1 cup grated Gruyère
1 cup grated Fontina
1 cup grated Mozzarella
3 large eggs
8 ounces crème fraîche (1 cup)
1/2 cup heavy cream
freshly grated nutmeg

Preheat oven to 375 degrees F.

Toss asparagus with oil on a rimmed baking sheet. Season with salt and pepper. Roast until tender, about 10 minutes. Trim ends so that asparagus fits the width of tart pan. Chop the ends and use in filling.

Fry bacon in a skillet set over medium heat until crisp and most of the fat has rendered, about 10 minutes. Using a slotted spoon, remove bacon to a bowl.

Layer baked tart shell with cheeses, bacon, and the chopped asparagus ends. Line the top with the roasted spears.

In a large bowl or measuring cup, whisk together eggs, crème fraîche, and heavy cream. Season with salt, pepper, and nutmeg. Pour over filled quiche. Bake until custard is set and puffed, about 25 to 30 minutes. Let cool slightly before removing from pan. Let cool completely on a rack. Serve with salad. Yield: 4 to 6 servings.

Tart Shell

1-1/4 cup all-purpose flour
1/2 teaspoon salt
1/2 cup (1 stick) unsalted butter, chilled, cut into small pieces
3 to 4 tablespoons ice water

In a large bowl, combine flour and salt. Add butter and work with a pastry blender until mixture resembles course meal. Add ice water a little at a time and mix until dough comes together. Form the dough into a flat disc and wrap in plastic. Chill for at least 1 hour before rolling.

Preheat oven to 375 degrees F.

Roll out dough on a well floured work surface to fit a 7-by-11-inch fluted tart pan. Carefully lay dough over pan. Press dough into the corners. Remove excess dough by running rolling pin over pan. Fill any holes or cracks with excess dough.

Chill shell for 10 minutes. Using a fork, prick the bottom of the pan all over. Line the inside of the pan with foil and fill with pie weights. Bake for 20 minutes. Then carefully remove pie weights with foil. Continue to bake until light brown, about 15 to 20 minutes. Let cool completely.
- Recipe courtesy of Gastronomer's Guide.