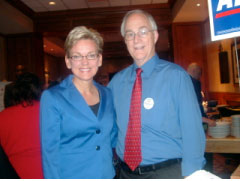 Today was our first full day at the Democratic National Convention, and we started out at a breakfast sponsored by The Michigan Democratic Party. On our way down to breakfast in the elevator we ran into Dan Mulhern, the husband of Michigan governor Jennifer Granholm. He was friendly, despite being hot and sweaty after his morning run, and Michael told him how much he enjoyed Dan's newsletter, "Reading for Leading." As a fitting start to a day when the buzz was all about Hillary Clinton's speech, Bob ran into Granholm herself, Michigan's own strong female leader, at the breakfast, and she spent some time talking with us.

After breakfast we went to the Colorado Convention Center, where Bob wanted to attend a meeting with labor leaders, including the UAW. If you're a Michigan politician, labor is a crucial constituency, particularly when the major automakers are struggling. Security was tight, first a metal detector, then guys with guns asking for our non-existent press passes. We started trying to talk our way in, which succeeded only when Bob extended his hand and said, "hi, Bob Alexander, Democrat running for Congress." That was money; one of the armed enforcers said "that's all the credential you need," and we were in. I'd love to think that this happened because Bob is inherently quite charming, but I suspect it had more to do with following the rules about who could be admitted to the Center.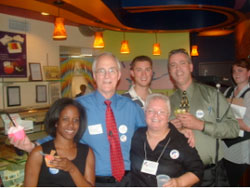 Our next stop was a Gelato Party at Gelazzi Gelato Café sponsored by the Department of Peace. The relationship between frozen Italian dessert and the cessation of all hostilities is somewhat unclear, but Bob has spent most of his life identified with the peace community, and is outspoken in his opposition to the war in Iraq; the peace people are "his people."
Eboney had won a ticket to the Convention floor at a raffle held by Michigan Democratic Party chair Mark Brewer, and as we walked to the Gelato Party, she announced that she was never going to make it through the day in the high heels she'd worn to go with her convention-going outfit. As we searched for alternative footwear (eventually finding sparkly flip flops at a Payless), Michael asked Eboney how she could wear rubber beach thongs with her corporate attire. "This is how you do it," she explained, "you put on some comfortable shoes, and then you get to work and put on your high heels…that's what you're supposed to do."

After solving the Denver Footwear Crisis, we hit the streets again; there were sirens and police officers everywhere, almost every other block, and we wondered whether it was an emergency, or just normal Convention hysteria. Eboney spoke to a man she knew who was part of Jennifer Granholm's security staff, which prompted him to yell "hey everybody! This is the next Congressman from Lansing, Michigan, BOB ALEXANDER!!! YEAH!!!" He received a rousing chorus of clapping and cheers from people on the street, and Ryan observed that "some places we go, we're looking for celebrities, other places we go Bob is a celebrity."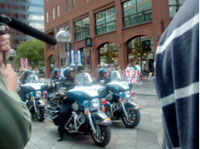 We had an incredibly energizing time with the Department of Peace constituency, many of whom either know Bob personally, or by reputation. Members from Boulder offered to throw a fundraiser for Bob if he could stay in town, and feeling appropriately optimistic, we headed back out to the Denver streets. We were approached immediately by the anarchists, who told us that September 11 was an inside job, and demonstrated some sort of water vapor/nicotine devices with grassy knoll connections. The PUMA people appeared next, chanting and carrying signs. Bob told a police officer that he was "enjoying his city," to which the officer replied "It's not my city; I'm from Salt Lake." We stopped to observe the official protesting area where people were permitted to display signs, chant, and otherwise express opposition. "This is the first time I've ever done that" Bob said, wryly. "I didn't speak, didn't protest, didn't petition, didn't join the rally…."

We checked out "The Big Tent," a two-story affair with bloggers on the ground floor and speakers on the top. We didn't have credentials to get in, and they'd "used up" the daily quota of press passes, so we just filmed from the outside. (A personal aside: when I die, if there is a heaven, it will be very similar to the interior of that tent, full of writers, energy, and free smoothies). There was a bumper crop of Apple Macs, about 30 8-ft tables with chairs, love seats, and everywhere, people talking and blogging.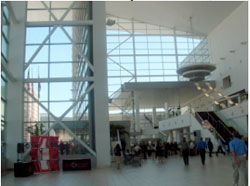 The Lieutenant Governor's reception came next, on the 38th floor of some giant building with security outside and a huge lobby. We were all exhausted by this time, and it was difficult to maintain the necessary level of energy for essential meeting and greeting. Bob talked with Michigan's Lieutenant Governor John Cherry, we all ate a little, and went back to the hotel to regroup for the last stop of the night, the Governor's party.

Despite some confusion about whether we were allowed to film at the party, it was a great end to a very long day. Governor Granholm was extraordinarily graceful and gracious, as always, talked with Bob and smiled for the camera. After the filming was done, we relaxed and explored the party, which included a DJ, and mini-bowling in another room. Eboney joined us after leaving the Convention floor, and she and Ryan decided to stay for a while; those of us in the over-30 category headed back to our hotel around 1:00 a.m. My mind is a blur of gelato, crowds, cops, smiling and hand-shaking, but I know (she said, sentimentally) that I saw American Democracy in action.


Ann Graham Nichols cooks and writes the Forest Street Kitchen blog in East Lansing, Michigan where she lives in a 1912 house with her husband, her son and an improbable number of animals.