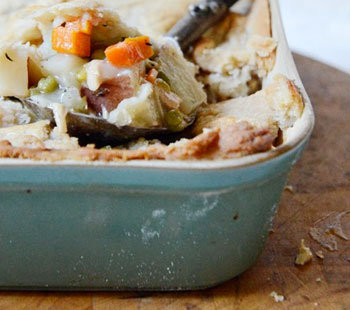 Ingredients:
Crust: 12.5 ounces | 350 grams | 2 1/2 cups gluten free flour blend
1/2 teaspoon Celtic sea salt
pinch of fresh, ground pepper
8 ounces | 230 grams | 2 sticks unsalted, organic butter
3 – 4 ounces ice cold water
1 teaspoon cider vinegar
Filling: 32 ounces | 4 cups chicken stock
24 ounces | 610 grams | 4 cups red potatoes, washed and diced
10 ounces | 280 grams | 2 cups diced carrots
1 ounce | 28 grams | 2 tablespoons unsalted, organic butter
6 ounces | 170 grams | 1 cup finely, chopped shallots (or onions)
3 1/4 ounces | 92 grams | 3/4 chopped celery
2 cloves of garlic, minced
3.75 ounces | 105 grams | 3/4 cup gluten free flour blend (or regular AP)
12 ounces | 342 grams | 3 cups diced, cooked turkey
4 ounces | 112 grams | 1 cup frozen, organic peas
1 teaspoon Celtic sea salt
1/2 teaspoon fresh ground pepper
1 teaspoon chopped, fresh rosemary
Instructions:
for the crust:
• place flour, salt, and pepper in the work bowl of a food processor fitted with the metal blade. pulse 5 – 6 times.
• dice butter into small cubes and add to the work bowl. pulse until the contents resemble coarse meal.
• combine water and cider vinegar in a glass measuring cup. add the water through the tube, one tablespoon at a time. as soon as you see the dough coming together, pinch a bit of it between your fingers. if it comes together, and you can form a small ball, you have done your job.
• dump dough onto a piece of parchment dusted with a bit of your flour. bring dough together quickly to form a nice, round disc. you don't want to handle the dough too much as this will cause the butter to melt. if that happens, your dough will fall apart when rolling.
• place in the freezer for about 20 minutes.
for the filling:
• bring 3 cups of stock to a simmer and add the carrots and the potatoes. cook 5 minutes. place a strainer over a large glass bowl, and pour contents into the strainer/bowl. reserve stock.
• in a large, heavy duty sauté pan, melt the butter. add the shallots and celery and sauté over medium heat for 10 minutes or until translucent.
• add garlic and sauté for 1 minute.
• whisk 1 cup of remaining stock and 3/4 cup flour. it will resemble a thick paste. add the roux to shallot/celery mixture and whisk until you do not see any lumps.
• stir in potato/carrot mixture (and the stock), turkey, peas, salt, pepper, and rosemary. cook 10 – 15 minutes.
Assembly:
• preheat oven to 400°F.
• butter a 13″ x 9″ baking dish. spoon turkey mixture into prepared pan. set aside while you roll out the dough.
• dust a piece of parchment paper with flour and roll dough out into a 16″ x 12″ rectangle. place rectangle over baking dish. there will be some dough hanging over the sides. flip that extra dough up and over and press the dough (use your muscles) into the side of the pan.
• using a paring knife cut 5 slits in the top of the crust to allow the steam to escape while baking. brush with milk or cream.
• bake for 45 minutes or until the top is golden brown.
• let cool for 10 minutes before serving.
*crust was adapted from here.
* this recipe is equally as delicious with chicken, beef, or scallops.
- Recipe courtesy of Susan Salzman