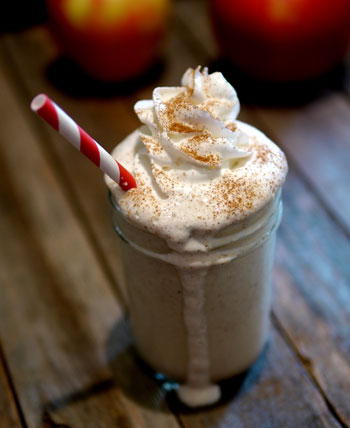 Recipe Created by Noble Pig | Serves: Makes two (8 oz) shakes
Ingredients:
1 large apple, peeled, cored and thinly sliced (I used Honeycrisp)
1-1/2 Tablespoons butter
1 teaspoon granulated sugar
1/2 teaspoon ground cinnamon
3 cups premium vanilla ice cream
1 cup Bulgarian buttermilk
2 teaspoons apple pie spice, more for garnish
whipped cream
Directions:
In a large nonstick pan, melt butter over medium heat. Add apples, sugar and cinnamon. Saute until very soft, about 5 minutes. Remove from pan and let cool to room temperature.
Once apples are cooled, add them to blender with ice cream, buttermilk and apple pie spice. Blend until fully combined. Serve in chilled cups topped with whipped cream and sprinkled with more apple pie spice.
- Recipe courtesy of Cathy Pollak