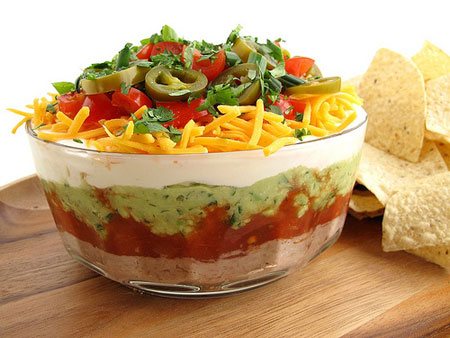 3 tablespoons canola oil
1 small yellow onion, chopped
2 garlic cloves, finely chopped
1 15-ounce can pinto beans, drained and rinsed
fine sea salt
freshly ground black pepper
2 Haas avocados, cubed
1/4 cup chopped cilantro, plus more for garnish
2 tablespoons lime juice (about 1 lime)
1 8-ounce jar Pace Picante sauce
1 cup sour cream
1/2 cup shredded cheddar cheese
1 pint cherry tomatoes, quartered
1/4 cup pickled sliced jalapeños
4 scallions, sliced
tortilla chips, for serving

Warm oil in a sauté pan set over medium-high heat. Add onion and garlic. Sauté until translucent, about 3 minutes. Add beans and 1/4 cup water. Simmer until most liquid evaporates. Mash the beans while cooking. Season with salt and pepper. Transfer to the bowl of a food processor. Purée until smooth. Let cool.

Combine the avocados, cilantro, and lime juice in a bowl. Season with salt and pepper. Mash the avocados until smooth.

Spread the cooled bean mixture in the bottom of a large straight-sided glass bowl. Spread over with Pace Picante Sauce. Dollop the mashed avocados over the sauce. Spread the sour cream over the avocado layer. Top the bowl with cheese, tomatoes, pickled jalapeños, scallions, and additional cilantro. Serve dip with tortilla chips.
Yield: 6 to 8 servings
- Recipe courtesy of Joseph Erdos