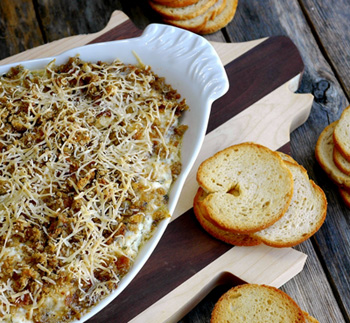 Recipe Created by Noble Pig | Serves: Serves 10-12
Ingredients:
11-12 ounces goat cheese
5 ounces cream cheese, softened
3/4 cup mayonnaise
1/2 cup Parmesan cheese, divided
1 (14 ounce) can marinated artichoke hearts in oil, well-drained and diced
1/2 cup chopped pecans, toasted
3 green onions, sliced (white and green parts)
1 Tablespoon Italian seasoning
3/4 cup soft, wheat bread crumbs
2 Tablespoons butter, melted
crackers or bagel chips
Directions:
Preheat oven to 350 degrees. In a medium sized bowl, beat goat cheese, cream cheese, mayonnaise and 1/4 cup Parmesan cheese until smooth.
Gently fold in artichoke hearts, pecans, green onions and Italian seasoning. Spread into a 1-1/2 quart baking dish and sprinkle with bread crumbs. Drizzle butter over top of bread crumbs and top with remaining Parmesan cheese.
Bake for 25 minutes until warm and bubbly. Serve immediately with crackers.
- Recipe courtesy of Cathy Pollak